Archetypes and Culture: Poetry and Philosophy
Keywords:
archetypes, collective unconscious, culture, poetry, philosophy, national idea, Ukraine
Abstract
The paper examines the role of poetry in decoding of archetypes of the collective unconscious, aiming to study the purpose of poetry in development of philosophy of national idea of peoples appearing on the current historical arena. The author draws a conclusion that firstly, poets are no myth-makers. They merely convey the meaning of historical imperatives to people through a myth. That is why the myth contents are of invariant nature. The myths which came from Poet's sacral pen are truly eternal - at least until there exist communities which spiritual analogs they are. Likewise, these myths are never abandoned and denied, demythified, verified and falsified by any peripetia of social processes and intellectual progress: they get reactualized rather.
Secondly, each people can get a national idea as a program for their being in history only through comprehension of a poetic myth under the notions of historiosophy, philosophy of history and philosophy of culture. With no systematic philosophical synthesis, the poetic Myth mostly becomes a tilting-yard of primitive politicking and intellectual fraud.
Today Ukraine has found no adequate solution to this topical issue though there are persons to rely on, specifically the historiosophic heritage of V. Lypynskyi, D. Dontsov, I. Boichenko, S. Krymskyi and M. Popovych.
References
Jung, Carl Gustav (1996), Psychology and Alchemy [Translat.], Janus-K, Moscow, 356 p. (rus).
Schelling, Friedrich Wilhelm (1936), The System of Transcendental Idealism [Translat.], OGIZ SOTSEKGIZ, Leningrad branch, Leningrad, p. 386. (rus).
Schiller, F. (1957), On Naїve and Sentimental Poetry, in: Collected. In 7 vols. T. 6, State Publishing House of Fiction, Moscow, p. 257. (rus).
Parandowski, Jan (1965), Alchemy of the Word, W.p., Warsaw, p. 138 (poland.).
Carlyle, Thomas (2008), Heroes and Hero Worship in History Summary [Translat.], Eksmo, Moscow, p. 102 (rus).
Hrabovych, H. (1991) Shevchenko as a Myth creator. Semantics of Symbols in the Poet's Creative Work [Translat.], Radianskyy pysmennyk, Kyiv, p. 212.
Szpotanski, Stanislaw (1921), Adam Mickiewicz and his epoch: Vol. 2. Towianism, J. Mortkowicz Publishing House. Publishing Society, Warsaw, Krakow, p. 170 (poland.).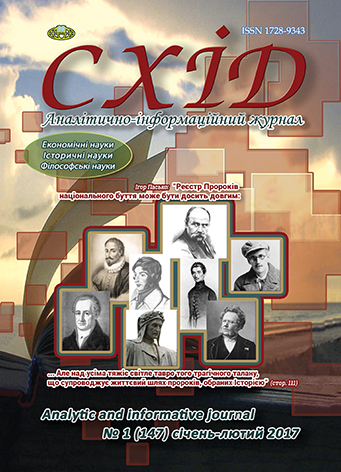 Downloads
How to Cite
Pasko, I. (2017). Archetypes and Culture: Poetry and Philosophy. Skhid, (1(147). https://doi.org/10.21847/1728-9343.2017.1(147).97460
License
Copyright (c) 2017 Ihor Pasko
This work is licensed under a Creative Commons Attribution-NonCommercial-NoDerivatives 4.0 International License.
1. Authors bear responsibility for the accuracy of facts, quotations, numbers and names used.
2. Manuscripts are not sent back.
3. The publisher does not always agree with the authors' opinion.
4. The authors reserve the right to authorship of the work and pass the first publication right of this work to the journal under the terms of a Creative Commons Attribution Non-Commercial License, which allows others to freely distribute the published research with the obligatory reference to the authors of the original work and the first publication of the work in this journal.
5. The authors have the right to conclude separate supplement agreements that relate to non-exclusive work distribution in the form in which it has been published by the journal (for example, to upload the work to the online storage of the journal or publish it as part of a monograph), provided that the reference to the first publication of the work in this journal is included.