Linguistic turn in philosophy: a critical analysis
Keywords:
linguistic turn, analytic philosophy, linguistic philosophy, representational turn, language
Abstract
The concept of linguistic turn is investigated in the article. Author distinguishes the following types of its interpretation: methodological, formalistic, gradual and holistic. P. F. Strawson's ideas that gave G. Bergmann the reason to use the term "linguistic turn" for the first time in the history of philosophy are under analysis. It has been proved that applying of the methodology of linguistic analysis to the realm of metaphysics was the decisive factor of linguistic turn taking place in analytic philosophy. The term became widely known due to R. Rorty at a time when linguistic philosophy was in a process of active developmpent. Criticism of R. Rorty's position by P. M. S. Hacker and, in general, the changes in understanding of linguistic turn in the history of analytic philosophy are considered. Particular attention is paid to the position of M. Dummett, who argued that linguistic turn was the result of G. Frege's and L. Wittgenstein's intelectual efforts. Analyzing the features of the gradual approach proposed by T. Williamson, author emphasizes his idea that linguistic turn in analytic philosophy is only the first phase of more fundamental turn, namely representational one, which includes a turn to the analysis of consciousness. However, the author justifies a holistic view of the concept of linguistic turn, which is an alternative to analytic approaches. This view makes it possible to better understand why the problem of language has become important not only for analytical philosophy, but also for continental philosophy and even the humanities.
References
Bergmann, G. (1960), Strawson's Ontology, The Journal of Philosophy, Vol. 57, No. 19, pp. 601-622 (eng). DOI: 10.2307/2022943
Carnap, R. (1931), Überwindung der Metaphysik durch Logische Analyse der Sprache, Erkenntnis, Vol. 2, S. 219-241. DOI: 10.1007/BF02028153.
Dummett, M. (1993), Origins of Analytical Philosophy, Duckworth, London, XI, 199 p. (eng).
Dummett, M. (1981), The Interpretation of Frege's Philosophy, Duckworth, London, 621 p. (eng).
Frege, G. (1884), Die Grundlagen der Arithmetik: eine logisch mathematische Untersuchung über den Begriff der Zahl, Felix Meiner, Hamburg, 164 s. (deuth).
Gadamer, H.-G. (2011), Truth and Method, Continuum, London, XXXVI, 601 p. (eng).
Hacker, P. M. S. (2007), Analytic Philosophy: Beyond the Linguistic Turn and Back Again, in Beaney M. (Ed.), The Analytic Turn: Analysis in Early Analytic Philosophy and Phenomenology, Routledge, London, pp. 125-141 (eng).
Heidegger, M. (1983) Einführung in die Metaphysik, Vittorio Klostermann, Frankfurt a.M., X, 234 s. (deuth).
Heidegger, M. (1949), Über den Humanismus, Vittorio Klostermann, Frankfurt a.M., 1949, 47 s. (deuth).
Husserl, E. (2011). Logische Untersuchungen, De Gruyter, Berlin, Boston, DOI: 10.1515/9783110916089.
Rorty, R. (1967), Metaphilosophical Difficulties of Linguistic Philosophy, in Rorty R. (Ed.), The Linguistic Turn: Recent Essays in Philosophical Method, University of Chicago Press, Chicago, pp. 1-39 (eng).
Rorty, R. (1991), Wittgenstein, Heidegger and the reification of language, in: Essays on Heidegger and Others: Philosophical Papers, Cambridge: Cambridge University Press, p. 50-65. DOI:10.1017/CBO9780511609039.
Strawson, P. F. (1959), Individuals, Routledge, London, and New York, 260 p. DOI: 10.4324/9780203221303.
Williamson, T. (2004), Past the Linguistic Turn?, in Leiter B. (Ed.), The Future for Philosophy, Oxford University Press, Oxford, pp. 106-128 (eng).
Synytsia, A. (2013), Analytical Philosophy, LSUPT, Lviv, 304 p. (ukr).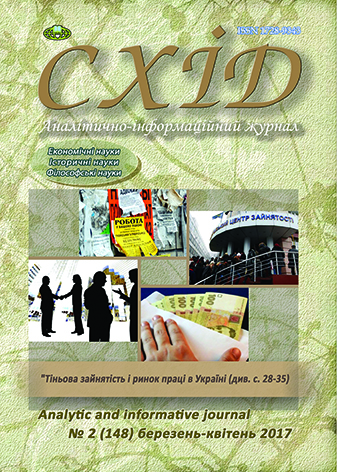 Downloads
How to Cite
Synytsya, A. (2017). Linguistic turn in philosophy: a critical analysis. Skhid, (2(148), 105–109. https://doi.org/10.21847/1728-9343.2017.2(148).95375
License
Copyright (c) 2017 Andriy Synytsya
This work is licensed under a Creative Commons Attribution-NonCommercial-NoDerivatives 4.0 International License.
1. Authors bear responsibility for the accuracy of facts, quotations, numbers and names used.
2. Manuscripts are not sent back.
3. The publisher does not always agree with the authors' opinion.
4. The authors reserve the right to authorship of the work and pass the first publication right of this work to the journal under the terms of a Creative Commons Attribution Non-Commercial License, which allows others to freely distribute the published research with the obligatory reference to the authors of the original work and the first publication of the work in this journal.
5. The authors have the right to conclude separate supplement agreements that relate to non-exclusive work distribution in the form in which it has been published by the journal (for example, to upload the work to the online storage of the journal or publish it as part of a monograph), provided that the reference to the first publication of the work in this journal is included.