Formation of competitive strategies of enterprises development of retail sale in the institutional environment
Keywords:
institutional environment, development concepts, retail sale, marketing tools, retail sale development strategies, retail sale market
Abstract
The article regards the possibilities of implementing modern approaches to formation of development strategies of retail sale enterprises with account to influence of institutional environment which is oriented to use of marketing tools while elaborating the principles of retailers' adaptation to changing market conditions.
It considers the essence of retail sale concept which is a consequence of transformation of consumer oriented marketing concept and consists of four elements - consumer orientation, coordinated activities, value orientation, aspiration to acquire the goals. Special attention is accentuated to the fact that the concept is understood but not all the retail sellers: they do not perceive changes or simply copy the strategies used by their competitors; they do not aspire to investigate the advantages of consumers, study their opinions, and wishes, and completely rely on the suppliers' reports or their previous experience of sales.
The conclusion is drawn that a retail company can rely on success if its competitive advantages correspond to the possibilities of environment where it has to act; if it manages to eliminate (or at least minimize) its weaknesses; if its plans are not only directed to the future and also take into account previous experience. Use of marketing concept in retail sale is possible with shifting of main accent to such notions as general impressions of consumers from the retail company, service to consumers and relationships oriented retail sale.
Main trends of market development of Ukrainian retail sale (significant shortening of sales in the majority of segments of retail sale in the majority of segments of retail sale; raise of percentage of non-organized trade (53%) are revealed, conclusion is made about presence of negative trends determining the strategies of retail sale operators. The reasons of decrease for different segments of retail sale market are determined: in the "premium" segment - fight for parts of market among competitors, in "medium" segment shift of 70% of consumers to the segment "medium minus". The conclusion is drawn that retail cooperative networks have to operatively change the assortment, price and distribution policy.
Principles of work of new retail sale operators are described; entering the market as innovators they gradually shift to traditional "medium, typical" schemes of work. It is determined that retail companies presented at the Ukrainian market must aspire to create and sustain the long-term relationships with their clients, and not behave like each next purchase in their shop is performed by a completely alien person to them.
The conclusion is draw about the necessity of value orientation (invention and service of additional, unique usefulness for consumers) of long-term strategies of retail sale enterprise development. It is established that only strict positioning of unique usefulness that will be found by a consumer in a given shop will become the basis of his long-term purchase loyalty and will provide sustainable functioning of a retail company even with negative tendencies at the market; and orientation exclusively towards price proposal will stimulate consumers to constant search of new "price temptations" in other retail points and will again launch the "wheel" of retail sale with other players.
References
Ansoff, H. Igor (1987), Strategic management of technology, Journal of Business Strategy, Vol. 7, Iss: 3, 28-39. doi: 10.1108/eb039162
Thirlwall, A. P. and Pacheco-López, P. (2009), Trade Liberalisation and The Poverty of Nations, Edward Elgar, Cheltenham, 264 p. doi: 10.4337/9781848444010
Howard, E. (2004), Retail internationalization: how to grow, Retail Strategy. The view from the bridge, 96-118. doi: 10.1016/b978-0-7506-5696-2.50007-6
Reynolds, J. (2004), Introduction to retail strategy, Retail Strategy. The view from the bridge, 3-22. doi: 10.1016/b978-0-7506-5696-2.50003-9
Samli, A. C. (2015), Coping with Retail Giants. Gaining an Edge Over Discounters, Palgrave Macmillan US, 198 p. doi: 10.1057/9781137476340
Bedrynets, M. D. (2004), Financial support of small business structures, Abstract of thesis for the degree of candidate of economic sciences in specialty 08.04.01, Irpin, 19 p. (ukr).
Litvinova, O. V. (2011), Conceptual specifics of network forms of business in trade, Predprinimatelstvo, Vol. 2(26), available at: http://uecs.ru/predprinematelstvo/item/331-2011-03-25-11-54-51?pop=1&tmpl=component&print=1 (rus).
Moskalenko, D. (2015), Give a trillion, Biznes, Vol. 9, available at: http://www.business.ua/companies/daesh_trillion-273828/ (ukr).
Nesterov, D. (2010), Ukrainian Retail: between crisis and prosperity, available at: http://retailstudio.org/article/9820 (ukr).
Shvestko, V. (2015), Trends in corporate retail trade networks of Ukraine, Efektyvna ekonomika, Vol. 12, available at: http://library.sumdu.edu.ua/data/Economic_01_2016.docx (ukr).
Shapoval, Ye. (2015), Supermarkets report on commodity turnover growth. In fact, the situation is very bad in the retail sector, available at: http://hubs.ua/business/vy-ruchka-supermarketov-padaet-39517.html (ukr).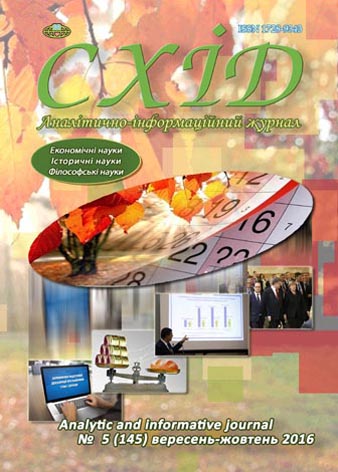 Downloads
How to Cite
Budnikevych, I., & Cherdantseva, I. (2016). Formation of competitive strategies of enterprises development of retail sale in the institutional environment. Skhid, (5(145). https://doi.org/10.21847/1728-9343.2016.5(145).82904
License
Copyright (c) 2016 Iryna Budnikevych, Iryna Cherdantseva
This work is licensed under a Creative Commons Attribution-NonCommercial-NoDerivatives 4.0 International License.
1. Authors bear responsibility for the accuracy of facts, quotations, numbers and names used.
2. Manuscripts are not sent back.
3. The publisher does not always agree with the authors' opinion.
4. The authors reserve the right to authorship of the work and pass the first publication right of this work to the journal under the terms of a Creative Commons Attribution Non-Commercial License, which allows others to freely distribute the published research with the obligatory reference to the authors of the original work and the first publication of the work in this journal.
5. The authors have the right to conclude separate supplement agreements that relate to non-exclusive work distribution in the form in which it has been published by the journal (for example, to upload the work to the online storage of the journal or publish it as part of a monograph), provided that the reference to the first publication of the work in this journal is included.