Forming term "strategic consulting" in context of scientific approaches
Keywords:
consulting, strategic consulting, strategic management, approach, system, innovation development
Abstract
In the article was analyzed term "consulting" using different scientific approaches and was presented authorial view to its maintenance. It was proved that modern changes of enterprises functioning needed to be laid by strategy as control system of development. It was found out that development of enterprises was possible in conditions of effective innovations usage, rates of increasing were connected with the level of strategic management. Was formed authorial position concerning term "strategic consulting" as professional activity in the system of strategic enterprise management. It was set that strategic consulting was powerful source of informative and intellectual resources for increasing level of competitiveness and innovative development. From the point of view scientific approaches it is suggested to present full term of "strategic consulting" as combination system and processing approaches with features of innovativeness that in future will to assist realization of strategic aims and targets of enterprise-customer. 
References
Kubr, M. (2004), Management Consultancy. Introduction into Profession [translat.], Planum Publishing, Moscow, 319 р. (rus).
Makham, K. (1999) Management Consulting [translat.], Business and Service, Moscow, 288р. (rus).
Greiner, Larry E. (1977), Consulting in 3D. Contemporary Psychology, Vol. 22(10), 740-741. doi: 10.1037/015464
Block, Peter (2007), Flawless Consulting [translat.], Piter Publishing, St.Petersburg, 304 p. (rus).
Engwall, Lars & Kipping, Matthias (2013), Management Consulting: Dynamics, Debates, and Directions, International Journal of Strategic Communication, Vol. 7, Issue 2, 84-98. doi: 10.1080/1553118X.2013.765436
Wickham, F. (2006), Consulting in Project Management, [Тranslat.], Business and Service, Moscow, 367 р. (rus).
Schein, E. H. (1978), The Role of the Consultant: Content Expert or Process Facilitator?, The Personnel and Guidance Journal, 56, 22-26. doi: 10.1002/j.2164-4918.1978.tb04661.x
Aleshnikova, V.I. (1994), Management Consulting in the regional economy: (theoretical-methodological aspect), Abstract of thesis for the degree of candidate of economic sciences in specialty 08.00. "The development of productive forces and regional economy", Moscow, 20 p. (rus).
Rapoport, V.Sh. (1988), Diagnostics of Management (Practical Experience and Recommendations, Economy Publishing, Moscow, 324 р. (rus).
Utkin, E.A. (1998), Consulting, Association of Authors and Publishers "ТАNDЕМ", EKMOS publishing, Moscow, 256 p. (rus).
Blinov, A.O., Butyrin, G.N. and Dobrenkova, E.V. (2002), Management Consulting of Corporative Organizations, INFRA-M Publishing, Moscow, 192 р. (rus).
Blumin, A.M. (2013), Informational Consulting: Theory and Practice of Consultancy, Publishing and Trade Corporation "Dashkov and Co", Moscow, 364 р. (rus).
Posadsky, A.P. (1999), Foundations of Consulting, GUVShE Press, Moscow, 240 p. (rus).
Prigozhyn, A.I. (2003), Methods of Development of Organization, MCFER, Moscow, 864 р. (rus).
Marinko, G.I. (2005), Management Consulting, INFA-M, Moscow, 381 p. (rus).
Yarmysh, V. (2000), Consulting - So Much in One Word, available at: http://www.cfin.ru/consulting/review.shtml (rus).
Beloshapka, V.A. and Zagoriy, G.V. (1998), Strategic Management: Principles and International Practice, Absolut - В, Kyiv, 352 p. (rus).
Unynets-Khodakivska, V.P., Kostyukevych, O.I. and Lyatambor, O.A. (2009), Market of Financial Services. Theory and Practice, Centre of Educational Literature, Kyiv, 392 p. (ukr).
Romaniuk, L.M. (2010), Theoretical Aspects of Strategic Management of Enterprise and its Staff, Scientific works of KNTU. Economic science, Vol. 17, available at: http://www.kntu.kr.ua/doc/zb_17_ekon/…/64.pdf (ukr).
Verba, V.A. (2007), Development of Ukrainian Management Consultancy as Scientific Subject, Strategy of Economic Development. Collection of Scientific Works, Issue 20-21, 22-28 (ukr).
Korosteliov, V.A. (2003), Management Consultancy, MAUP, Kyiv, 104 p. (ukr).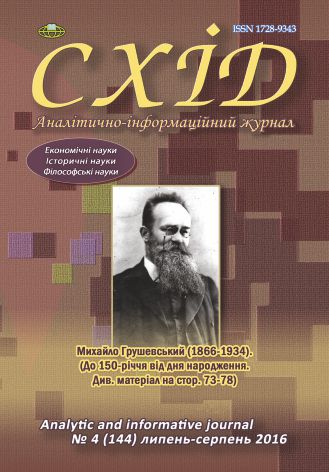 Downloads
How to Cite
Klenin, O. (2016). Forming term "strategic consulting" in context of scientific approaches. Skhid, (4(144), 29–33. https://doi.org/10.21847/1728-9343.2016.4(144).77730
License
Copyright (c) 2016 Oleg Klenin
This work is licensed under a Creative Commons Attribution-NonCommercial-NoDerivatives 4.0 International License.
1. Authors bear responsibility for the accuracy of facts, quotations, numbers and names used.
2. Manuscripts are not sent back.
3. The publisher does not always agree with the authors' opinion.
4. The authors reserve the right to authorship of the work and pass the first publication right of this work to the journal under the terms of a Creative Commons Attribution Non-Commercial License, which allows others to freely distribute the published research with the obligatory reference to the authors of the original work and the first publication of the work in this journal.
5. The authors have the right to conclude separate supplement agreements that relate to non-exclusive work distribution in the form in which it has been published by the journal (for example, to upload the work to the online storage of the journal or publish it as part of a monograph), provided that the reference to the first publication of the work in this journal is included.