Information support of marketing in the food industry
Keywords:
enterprise, food industry, marketing, software, information technologies
Abstract
The paper looks into one branch of Ukrainian economy - the food industry. It is established that marketing activities of food industry companies have some specific features, namely mismatching of an agricultural performance period and production time; a perishable nature of products, which necessitates tight time frames of storage and sales; production focus on the direct consumer; a high level of materials consumption of products released, which requires a large quantity of feedstock as well as high qualification skills and expertise from workers.

The activity of a domestic bakery is described. It is determined that the complexity of its production processes and increased information flows requiring in-line processing for acquisition of appropriate data served as a basis for introduction of the special 'Marketing' software by its Marketing Department. The conducted analysis of the information product allowed to establish that the user of the above software maintains routine accounting and control of product supplies. To that end, information is processed, parameters related to production and supplies analyzed. The software significantly improves operational efficiency owing to an increased number of accountable factors and reduced decision making time. That bundled software however makes no provisions for development of a unified integrated management system, which reduces the company operating efficiency.

It is established that to date there are many information systems available for food production automation, the Oracle E-Business Suite-based technology, developed by TopS BI, among them. It was offered for application at the food enterprise in question. The above system allows to automate production planning and management processes at various levels: from daily shop planning and management with step-by-step product quality control to scaled-up calendar planning of production, including that for a group of enterprises.
References
Akerlof G. A. and Kranton R. E. (2005), Identity and the Economics of Organizations, Journal of Economic Perspectives, 19(1), pp. 9-32, available at: http://public.econ.duke.edu/~rek8/identityandtheeconomicsoforganizations.pdf. (eng). doi: 10.1257/0895330053147930
Christensen C. M. and Bower J. L. (1995), Disruptive technologies: catching the wave, Harvard Business Review, January-February, available at: https://hbr.org/product/disruptive-technologies-catching-the-wave-hbr-bestseller/95103-PDF-ENG (eng). doi: 10.1016/0024-6301(95)91075-1
Kotler P. (1977), From Sales Obsession to Marketing Effectiveness, Harvard Business Review, November, available at: https://hbr.org/1977/11/from-sales-obsession-to-marketing-effectiveness (eng).
Lazurko N. V. (2012), Fundamentals of marketing activity at the enterprise, VLADOS Publishing, Moscow, 286 p. (rus).
Gradov A. P. (2014), Organizational structure and functions of the marketing department of the enterprise, «Nevsky Prospect» Publishing Corporation, St. Petersburg, 354 p. (rus).
Silatyeva N., Marinichenko L. (2012), Innovative activity of the enterprises, Pishchevaya i obrabatyvayushchaya promyshlennost [Food and manufacturing industry], № 7, Kyiv, pp. 4-6 (rus).
Website «Joint portal of food industry ofUkraine», available at: http://www.ukrfood.com.ua/ (rus).
Sandul O. (2013), Economic strategy of industry, Pishchevaya i pererabatyvayushchaya promyshlennost [Food and processing industry], № 1, Kyiv, pp. 4-5 (rus).
Applegate L. M., Pearlson Keri, and Kindred Natalie (2013), National Instruments, Harvard Business Review, April 01, available at: https://hbr.org/product/national-instruments/813001-PDF-ENG (eng).
The strategic direction of development of the economy (2013), Pishchevaya i pererabatyvayushchaya promyshlennost [Food and processing industry], № 7, Kyiv, p. 5 (rus).
Company Website «Oracle E-Business Suite», available at: http://www.oracle.com/ru/products (rus).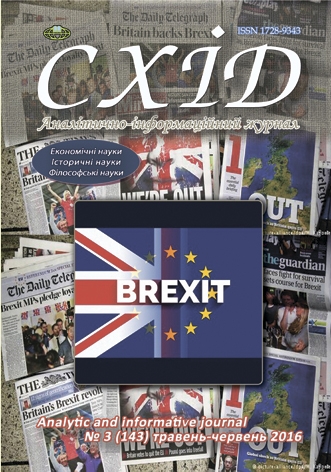 Downloads
How to Cite
Maltseva, I. (2016). Information support of marketing in the food industry. Skhid, (3(143). https://doi.org/10.21847/1728-9343.2016.3(143).74827
License
Copyright (c) 2016 Irina Maltseva
This work is licensed under a Creative Commons Attribution-NonCommercial-NoDerivatives 4.0 International License.
1. Authors bear responsibility for the accuracy of facts, quotations, numbers and names used.
2. Manuscripts are not sent back.
3. The publisher does not always agree with the authors' opinion.
4. The authors reserve the right to authorship of the work and pass the first publication right of this work to the journal under the terms of a Creative Commons Attribution Non-Commercial License, which allows others to freely distribute the published research with the obligatory reference to the authors of the original work and the first publication of the work in this journal.
5. The authors have the right to conclude separate supplement agreements that relate to non-exclusive work distribution in the form in which it has been published by the journal (for example, to upload the work to the online storage of the journal or publish it as part of a monograph), provided that the reference to the first publication of the work in this journal is included.