Problem "people - technique" in post-industrial society
Keywords:
philosophy of technics, technocratization, Gestelle, post-industrial information society, "homo technicus"
Abstract
In this article, the author aims to analyze such sufficiently complex and contradictory phenomenon as the development of technics in the modern world and its impact on the human life of the XXI century. The article deals with the interpretation of the technique as the philosophical problem by outstanding scientists of the twentieth century: M. Heidegger, Ortega-i-Gasset, E. Toffler and others. Summarizing their scientific potential the author tries to develop a "panacea" to save the man's own nature, the liberation of his consciousness from excessive "technocratization."

Since the technical revolution that took place in European culture during the so-called New Age, human society faced with the responsible historic task - to keep their "humanity" in the technical progress that gained momentum with each passing decade, and at the end of the twentieth century - with each subsequent year. This problem, unfortunately, is not resolved and the universal panacea against too technocratical reality still not discovered. This scientific problem concerned more than one generation of scientists and is becoming increasingly important, even more can be said - needs immediate resolution. To overcome the alienation that is aggravated by excessive technocratisation of our world, a person must "assign" technique in psychological and social aspects by providing technical environment objects of symbolic value. This, in our opinion, one of the most effective and painless way to reconcile humanity and technology.

The relevance of this work is caused, in particular, and such an interesting trend that at the present stage of development in Ukraine coincided historically active process of filling the living space of various forms of technology and the changing priorities of social development

After systematical analysis of M. Heidegger's, Ortega-i-Gasset's, E. Toffler's scientific works the author came to such conclusion: steady development of science and technics, which began in the period of the industrial type of society and is gaining more momentum in the XXI century caused to technocratisation of the human world, the emergence of a true "cult of technology." Humanity has embraced the idea of any price to gain unlimited power over nature, make it a source of resources. Frank technocratisation becoming more threatening rice, becomes a real threat to the spiritual life of mankind and its psychological and even mental health. Technical progress, out-of-control rights and subjected her life itself becomes a cause of alienation individual, causing loss of human relationship not only with the natural world, but even with his inner "I". The trend towards the substitution of true values by artificial ideals constant restless consumption, utilitarian - pragmatic attitude to life scare us a lot. The most effective, in our opinion, mean of individual self-preservation in modern conditions is limited and clever use of technology, when a person is its owner, and not regardless slave.
References
Adorno T. (1989), On technology and humanism, in Filosofiya tekhniki v FRG [Philosophy of Technology in Germany], Moscow, pp. 364-371 (rus).
Mumford L. (1986), Technology and Human Nature, in Novaya tekhnokraticheskaya volna na Zapade [New technocratic wave in the West], Moscow, pp. 225-239 (rus).
Ortega і Gasset J. (2000), Reflections on Technology, in J. Ortega y Gasset Selected Works, Moscow, pp. 164-232 (rus).
Rubenis A. A. (1992), Technique and morality, in Ethical Thought: Science-journalistic reading, 1991, Moscow, pp. 38-53 (rus).
Sidorina T. Yu. (1996), Anthropology of technology, in Gubin V. D., Sidorina T. Yu., Filatov V. P. (ed.), Philosophy, Moscow, pp. 263-265 (rus).
Stepin V. S., Gorokhov V. G., Rozov M. A. (1995), Philosophy of Science and technics, Moscow, 372 p. (rus).
Toffler Alvin (1982), Third Wave, in USA: economics, politics, ideology, № 7, p. 99 (rus).
Heidegger M. (2003), Vremya i bytiye, Kharkov, 503 p. (rus).
Heidegger M. (1989), Basic concepts of metaphysics, in Voprosy filosofii, № 9 (rus).
Alavi M., Keen P. G. W. (1989). Business teams in an information age, The Information Society, 6(4), pp. 179-195. doi: 10.1080/01972243.1989.9960081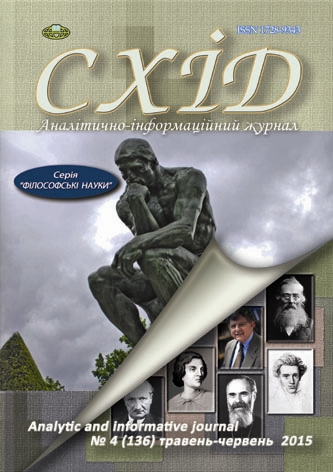 Downloads
How to Cite
Alieva, O. (2015). Problem "people - technique" in post-industrial society. Skhid, (4(136), 3–7. https://doi.org/10.21847/1728-9343.2015.4(136).48328
License
Copyright (c) 2015 Olga Alieva
This work is licensed under a Creative Commons Attribution-NonCommercial-NoDerivatives 4.0 International License.
1. Authors bear responsibility for the accuracy of facts, quotations, numbers and names used.
2. Manuscripts are not sent back.
3. The publisher does not always agree with the authors' opinion.
4. The authors reserve the right to authorship of the work and pass the first publication right of this work to the journal under the terms of a Creative Commons Attribution Non-Commercial License, which allows others to freely distribute the published research with the obligatory reference to the authors of the original work and the first publication of the work in this journal.
5. The authors have the right to conclude separate supplement agreements that relate to non-exclusive work distribution in the form in which it has been published by the journal (for example, to upload the work to the online storage of the journal or publish it as part of a monograph), provided that the reference to the first publication of the work in this journal is included.