Metropolitan Andrey Sheptytsky in Moscow (to the 150th anniversary of his birth)
Keywords:
Andrey Sheptytsky, Moscow, Russian Greek Catholic Church
Abstract
The article tells about Andrey Sheptytsky relationships with the Greek Catholics of Moscow, its role in the approval of this religious denomination.
The second half of the nineteenth century the Russian Empire began to spread the movement by joining the Apostolic Vatican. Most consistently argued this line famous Russian philosopher Vladimir Solovyov. Acquainted with him at the end of1887 inMoscow, then a student of law Andrey Sheptytsky understood better his other concept, which began to implement after taking the throne of Metropolitan of the Ukrainian Greek Catholic Church in L'viv. To this end it in 1908 with the blessing of the Pope visited St. Petersburg and Moscow, where he laid the foundation for future congregations of the Greek Catholic Church, and epistolary support their activities.
After his release from Russian prison in spring 1917 Metropolitan Sheptytsky Church planned to convene a Constituent Assembly of Russian Greek Catholic church in Moscow, in connection with which he arrived in the city May 15. However, through the work of the council at the Russian Orthodox Church was not possible to provide delegates housing, which forced organizers to move the gathering to Petrograd.
At the same time, while in Moscow for three days, Metropolitan Sheptytsky chance to see the Abrikosov's family, which worked devotedly for distribution in the union, visited the New Jerusalem Peter, Bishop of Smolensk, which was seen during the previous visit to the city in 1908, and substantively engaged in problem interned eastward Russian authorities Galician Greek Catholic priests and civilians.
References
Zaitsev P. (1949), Seven boxes of horseshoes, Vilne slovo, Blomberg, Oct. 30 (ukr).
Haliv M., Nykyforuk V., Shtohryn Yu. [Ed.] (1996), Metropolis in New York for the Servant of God Andrey Sheptytsky in the 50th anniversary of his death, New York, 80 p. (ukr).
Korostovets V. (1979), Meeting with Metropolitan Andrey Sheptytsky, Svitlo (ukr).
Avvakumov Yu., Haiova О. [comp.], (2004), Metropolitan Andrey Sheptytsky and the Greek Catholics in Russia. Documents and materials. 1899-1917, Vol. 1, Ukrainian Catholic University Pub., XLIX, 924 p. (ukr).
Tsehelskyi L. (1937), Metropolitan Andrey Sheptytsky. Short biography and review its church-folk activities, Ameryka, Philadelphia, 62 p. (ukr).
Baran S. (1947), Metropolitan Andriy: life and work, Munich, 151 p. (ukr).
Doroshenko V. (1958), Great Metropolitan (memory of Metropolitan A. Sheptytsky): memoirs and essays, Yorkton, 56 p. (ukr).
Hryniokh I. (1961), Servant of God Andrey – evangelist of unity, Munich, 220p. (ukr).
Lentsyk W. (2001), Prominent figures of Ukrainian churches: the Metropolitan Andrey Sheptytsky and Patriarch Josна Slipyj, Lviv, 608p. (ukr).
Muzychka I. (1983), Ecumenical activity of Metropolitan Andrey Sheptytsky in Russia in 1914 – 1917 years, Bohosloviia, 1983, Vol. 47, Iss. 1-4, pp. 3-39 (ukr).
Khoma I. (1989), More on the Uniate Metropolitan Andrey ecumenical activity in the early twentieth century, Bohosloviya, 1989, Vol. 53, pp. 71-98 (ukr).
Idzio V. S. (2007), Metropolitan Andrey Sheptytsky on the pages of the Russian press and Ukrainian magazine in Moscow «Ukrainian life» in 1914-1917 years of the twentieth century, Lviv, 52 p. (ukr).
Memoirs of blackthorn road Eminence Metropolitan Andrey Count Sheptytsky (1917), Society. St. Apostle Paul, Lviv, 64 p. (ukr).
Kravcheniuk O. (1963), Giant with St. GeorgeHill: comments to the biography of the Servant of God Andrey Sheptytsky based on foreign sources, Holos Ukrayinstva, Yorkton, 156 p. (ukr).
Burman V. fon (1966), Leonid Fedorov. Life and work, Rome, 294 p. (rus).
Moskovskiye vedomosti (1917), May 14(27) (rus).
Moskovskiye vedomosti (1917), May 18(31) (rus).
Kravchuk A. (Ed.) (1995), Church and Church unity: documents and materials. 1899-1944. Metropolitan Andrey Scheptytskyy. Life and work, Lviv, 523 p. (ukr).
Promin (1917), Moscow, No 5-6 (ukr).
Robitnycha hazeta (1917), Jul. 20 (ukr).
Institute of Manuscripts of Vernadsky National Library, fond 244, sprava 624 (ukr).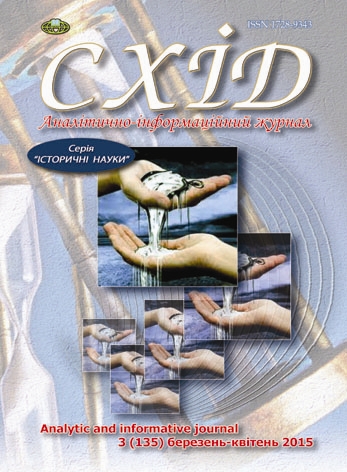 Downloads
How to Cite
Serhiichuk, H. (2015). Metropolitan Andrey Sheptytsky in Moscow (to the 150th anniversary of his birth). Skhid, (3(135). https://doi.org/10.21847/1728-9343.2015.3(135).46584
License
Copyright (c) 2015 Hryhoriy Serhiichuk
This work is licensed under a Creative Commons Attribution-NonCommercial-NoDerivatives 4.0 International License.
1. Authors bear responsibility for the accuracy of facts, quotations, numbers and names used.
2. Manuscripts are not sent back.
3. The publisher does not always agree with the authors' opinion.
4. The authors reserve the right to authorship of the work and pass the first publication right of this work to the journal under the terms of a Creative Commons Attribution Non-Commercial License, which allows others to freely distribute the published research with the obligatory reference to the authors of the original work and the first publication of the work in this journal.
5. The authors have the right to conclude separate supplement agreements that relate to non-exclusive work distribution in the form in which it has been published by the journal (for example, to upload the work to the online storage of the journal or publish it as part of a monograph), provided that the reference to the first publication of the work in this journal is included.