The transition from a "weak state" to a "powerful state": Ukrainian case
Keywords:
Ukraine, war, Russian aggression, powerful state, transit, political transit, political leader, identity
Abstract
In the authors' previous studies of the state phenomenon with the status of "weak state" and signs of this type of political system, Ukraine was considered a vivid example of a state of this type. However, since the beginning of Russian military intervention in Ukraine on February 24, 2022, we have witnessed the rapid transition of the Ukrainian state and political system from weak state status to a powerful one. In this study, the authors consider differences in the definitions of "powerful" and "strong" states and prove that Ukraine, having left the ranks of weak states, has not yet acquired the status of a strong state, but has the signs of a powerful one. It is also noted that the conditions and terms of such a transit of the state and political system are unique. In the authors' opinion, three main requisites of the fast transit of Ukraine to the status of a powerful state have been substantiated: the presence of a strong political leader and a particular mentality of the Ukrainian people. The research by Guillermo O'Donneland Philip Schmitter with their idea of the resocialization of citizens, i.e., adoption and assimilation of new democratic values, norms, and behavior models by the population of the state as an essential factor in obtaining durability and democracy by the state, served as the methodological basis for choosing these categorical characteristics. Furthermore, therole of the "aggressive neighbor" factor in acquiring a new status by a political agent has also been substantiated.
References
Buzan, Barry. (1991). People, States & Fear. London, Harvester Wheatsheaf.
Collier, D., & Levitsky, S. (1997). Democracy with Adjectives: Conceptual Innovation in Comparative Research. World Politics, 49(3), 430–451. http://www.jstor.org/stable/25054009
Demchenko, O. (2022, April 5). Nashcho Rosiyi myrni perehovory. Choho khoche Putin vid Ukrayiny. Lb.ua. https://lb.ua/world/2022/04/05/512263_nashcho_rosii_mirni_peregovori_chogo.html
Fukuyama, Francis (2004). State-Building: Governance and World Order in the 21st Century. Cornell University Press.
Fukuyama, Francis (2022, April 25). Why Ukraine Will Win. American purpose. https://www.americanpurpose.com/blog/fukuyama/why-ukraine-will-win/
Gruegel, J. (2002). Democratization. A Critical Introduction. Palgrave Macmillan.
Harasymiw, B., Diamond, L., Plattner, M. F. (2003). Democracy after Communism. International journal (Toronto, Ont.) 59(1): 228. https://doi.org/10.2307/40203915
Karatnycky, Adrian & Motyl, Alexander J. (2009). The Key to Kiev. Foreign Affairs, May / June. P. 106-120. https://www.foreignaffairs.com/articles/russian-federation/2009-05-01/key-kiev
Kassab, Hanna Samir (2015). Weak States in International Relations Theory. The Cases of Armenia, St. Kitts and Nevis, Lebanon, and Cambodia. Palgrave Macmillan New York. https://doi.org/10.1057/9781137543899
O'Donnell, Guillermo, Schmitter, Philippe C., Whitehead, Laurence (1986). Transitions from Authoritarian Rule. Baltimore/London.
Oleksii Reznikov: Europe must arm Ukraine faster (2022, June 18). The Ecnomist. https://www.economist.com/europe/2022/06/12/europe-must-arm-ukraine-faster-urges-its-defence-minister
Pavliuk S.(2003). Dramatychnist protsesu samoidentyfikatsiyi ukrayintsiv u suchasnykh umovakh: vlada i suspilstvo (p. 6-11). In: Ukrayina - problema identychnosti: lyudyna, ekonomika, suspilʹstvo. Conferens Papers. Lviv, Ukraine.
Rotberg, R. (2004). When States Fail. Causes and Consequences. Princeton University Press.
Schedler, Andreas (April 1998). What is Democratic Consolidation? Journal of Democracy 9:2, 91-107. https://www.journalofdemocracy.org/articles/what-is-democratic-consolidation/
Shcherbak, Yu. (2009). Ukraina kak failed state: mify i realnost. http://vkurse.ua/analytics/ukraina-kak-failed-state-mify-i-realnost.html
Shlyakhtun, P.P. (2005). Politolohiya (teoriya ta istoriya politychnoyi nauky). Kyiv, Lybid.
The Fund for Peace (FFP) (2019). https://fragilestatesindex.org/wp-content/uploads/2019/03/9511904-fragilestatesindex.pdf
The Fund for Peace (FFP), 2022. https://fragilestatesindex.org/wp-content/uploads/2022/07/22-FSI-Report-Final.pdf
The President of Ukraine received the Winston Churchill Leadership Award (2022, July 26). The Presidential Office of Ukraine. https://www.president.gov.ua/en/news/prezident-ukrayini-otrimav-premiyu-vinstona-cherchillya-za-l-76677
Yereskova, T., Mazuryk, O., Aleksandrova, O., Tymofieieva, H., Zavadskii, V. (2020). Uncertainty as a regular feature of modern ukrainian society. Teorija in Praksa. 19. 928-946.
Yermolenko, Alice. (2022, May 21). Vidrodzhennya Ukrayiny: yak rozvyvatymetʹsya ukrayinsʹka kulʹtura pislya viyny. ELLE. https://elle.ua/ludi/novosty/vdrodzhennya-ukrani-yak-rozvivatimetsya-ukranska-kultura-pslya-vyni/
Zelinska, M., Chechel, A. (2019). A Country With a "Weak State". LAP LAMBERT Academic Publishing.
Zelensky is playing a role that almost no one expected from him - world media (2022, Febrier 25). BBC News Ukraine. https://www.bbc.com/ukrainian/features-60522675 (In Ukrainian)
Zelinska, M. (2017). Instytut prezydentstva v mezhakh kontseptsiyi "failed state". In: Problemy ta perspektyvy rozvytku derzhavnoho upravlinnya v umovakh reformuvannya. Belsko-Byala, Vyshcha shkola ekonomiky ta humanitarystyky. (In Ukrainian)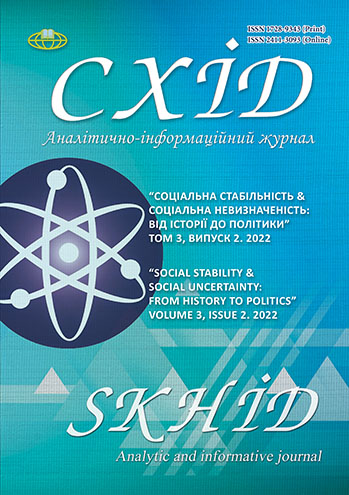 Downloads
How to Cite
Zelinska , M., Chechel, A., & Tanchyk , O. (2022). The transition from a "weak state" to a "powerful state": Ukrainian case. Skhid, 3(2), 33–39. https://doi.org/10.21847/1728-9343.2022.3(2).263726
Section
Research Articles
License
Copyright (c) 2022 Марина Зелінська, Анна Чечель, Олена Танчик
This work is licensed under a Creative Commons Attribution-NonCommercial-NoDerivatives 4.0 International License.
1. Authors bear responsibility for the accuracy of facts, quotations, numbers and names used.
2. Manuscripts are not sent back.
3. The publisher does not always agree with the authors' opinion.
4. The authors reserve the right to authorship of the work and pass the first publication right of this work to the journal under the terms of a Creative Commons Attribution Non-Commercial License, which allows others to freely distribute the published research with the obligatory reference to the authors of the original work and the first publication of the work in this journal.
5. The authors have the right to conclude separate supplement agreements that relate to non-exclusive work distribution in the form in which it has been published by the journal (for example, to upload the work to the online storage of the journal or publish it as part of a monograph), provided that the reference to the first publication of the work in this journal is included.