Andrij Potebnia – a forgotten hero of Polish-Ukrainian relations
Keywords:
Andrij Potebnia, memory policy, local historical tourism, Polish January Uprising
Abstract
Poland and Ukraine have a lot of problems in establishing bilateral remembrance policy, first of all because of the history after World War I, and as well in topic connected to – mostly in frame of stereotypes – the history during The Polish-Lithuanian Commonwealth. Deep russification and anti-Polish state policy, which lasted from XVIII to XXI century, implemented by Russians in Ukraine should be underlined as well. Not only "Ukrainian" meant second category, but also world "Polski Pan" (Polish Lord) had a definite pejorative tone then – it was used even in propaganda during Soviet Invasion in 1920 and 1939. In article will ipso facto be presented one of the forgotten heroes (definitely in Ukraine) which can be a symbol of bilateral international relations. Andrij Potebnia should be one of main actors of building Polish-Ukrainian memory cooperation. The text not only reveals how memory of this officer is presented in Polish Internet today, but also how this forgotten hero of two nations is remembered by local communities in Poland.
References
Andrij Potebnia, https://pl.wikipedia.org/wiki/Andrij_Potebnia (in Polish).
Djakow, W. A. & Miłler, I. S. (1964). Riewolucyonnoje dwiżenije w russkoj armii i wosstanije 1863. Moscow, Nauka. 448 p. (in Russian).
Habielski, R. (2009). Przeszłość i pamięć historyczna w życiu kulturalnym PRL. Kilka uwag wstępnych. Polityka czy propaganda. PRL wobec historii, Paweł Skibiński, Tomasz Wiścicki (ed.), Warszawa, Muzeum Historii Polski (in Polish).
Halbwachs, M. (2006). Das Gedächtnis und seine sozialen Bedingungen, Berlin: Luchterhand 1966. Neuauflage: Frankfurt am Main: Suhrkamp, 1985/2006. (in Germany).
Józefiak, B (2013). Skąd się wzięły zagadkowe nazwy wrocławskich ulic?, https://gazetawroclawska.pl/skad-sie-wziely-zagadkowe-nazwy-wroclawskich-ulic/ar/1074822 (in Polish).
Kamionka, M. (2020). Historical Heroes of modern Ukrainian Students. Sumskyi istoryko-arkhivnyy zhurnal [Sumy historical and archival journal]. № XXXV. https://doi.org/10.21272/shaj.2020.i35.p.54 (in English).
Kulynyak, M. (2013) Organizaciya Potebni. https://www.umoloda.kiev.ua/number/2326/196/82740/ (in Ukrainian).
Lejkina-Swirskaja, W. R. (1963). Andriej Potiebnia, w sbornikie: Riewolucyonnaja situacyja w Rossii w 1859—1861 (in Russian).
Mróz M. (2015). Konflikty zbrojne na Ukrainie i Bliskim Wschodzie. Nowe wyzwania dla międzynarodowego bezpieczeństwa. Dyplomacja i Bezpieczeństwo, nr 1(3)/2015 (in Polish).
Sofyak, Natalia (2019, January). Two brothers, two shares: Alexander and Andrei Potebni, Scientific visnyk V O Sukhomlynskyi Mykolaiv National University Historical Sciences, 48(2), https://doi.org/10.33310/2519-2809-2019-48-2-38-45 (in Ukrainian).
Powiat Olkusz: Witamy gości z Kałusza, https://olkuszonline.pl/20191017237006/powiat-olkusz-witamy-gosci-z-kalusza1571348343(in Polish).
Szymaniak, M. (2019). Polskie zamachy. Publish House: Znak Horyzont (in Polish).
Włusek, A. (2016). Dymitr Wiśniowiecki – twórca pierwszych siczy kozackich. https://historykon.pl/dymit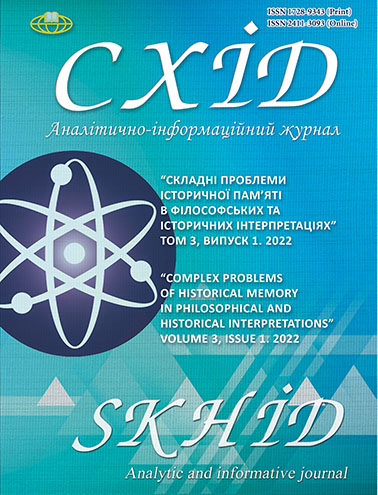 Downloads
How to Cite
Kamionka , M. . (2022). Andrij Potebnia – a forgotten hero of Polish-Ukrainian relations. Skhid, 3(1), 25–28. https://doi.org/10.21847/1728-9343.2022.3(1).254229
License
Copyright (c) 2022 Mateusz Kamionka
This work is licensed under a Creative Commons Attribution-NonCommercial-NoDerivatives 4.0 International License.
1. Authors bear responsibility for the accuracy of facts, quotations, numbers and names used.
2. Manuscripts are not sent back.
3. The publisher does not always agree with the authors' opinion.
4. The authors reserve the right to authorship of the work and pass the first publication right of this work to the journal under the terms of a Creative Commons Attribution Non-Commercial License, which allows others to freely distribute the published research with the obligatory reference to the authors of the original work and the first publication of the work in this journal.
5. The authors have the right to conclude separate supplement agreements that relate to non-exclusive work distribution in the form in which it has been published by the journal (for example, to upload the work to the online storage of the journal or publish it as part of a monograph), provided that the reference to the first publication of the work in this journal is included.