FROM COLONIAL CAPITALISM TO CRONY CAPITALISM. HISTORICAL AND INSTITUTIONAL DETERMINANTS OF THE SOCIO-ECONOMIC MODEL FROM THE MALAYSIAN PERSPECTIVE
Keywords:
Malaysia, colonial capitalism, crony capitalism, economic development, institutional economics, institutions, economic history
Abstract
During the period of colonialism the implementation of colonial capitalism resulted in the integration of Southeast Asia into the global economy, which directly influenced the local socio-economic system. The changes occurring in the region since the 19th century, which is the period discussed in this article, can be analyzed from many points of view. The following paper focuses on the territory of present-day Malaysia, an exceptionally heterogeneous country, and it analyses the results of this transformation and the influence it had on the current socio-economic system.
Colonialism has undeniably contributed to the economic growth of the Malay Peninsula while excluding parts of the population and destroying local institutions and existing models of the socio-economic system. Despite this apparent quantitative growth, oligarchic institutions were created, impeding the area's actual qualitative socio-economic development. The decolonization process did not change it sufficiently.
The first aim of the article is to indicate the direct historical relationship between colonial capitalism, violently implemented by colonial empires in the conquered territories, and the crony capitalism formed after the decolonization period. Secondly, the author tries to identify oligarchic institutions and the outcomes of their influence. These institutions were created in the historical process within colonial capitalism and are still present today. They fundamentally influence the politics and society of contemporary Malaysia, thus inhibiting qualitative socio-economic transformation. Thirdly, the author, using a variety of indicators and indexes measuring, for example, corruption, the democratization process, or social development, seeks to demonstrate the power of crony capitalism and its institutions and their impact on impeding socio-economic development.
References
Andaya, B. & Andaya, L. (1982). A History of Malaysia, Macmillan Education UK, London.
Alatas, S. H. (1997). The Myth Of the Lazy Native, Frank Cass and Company Ltd., London.
Chmielewski, P. (2011). Homo agens, Institutionalism in the Social Sciences, Poltext, Warszawa, (In Polish).
Chin, J. (2011). History and Context of Public Administration in Malaysia, (in:) Public administration in Southeast Asia, Berman E. (eds.), Taylor and Francis Group, London, pp. 29 – 52.
Drabble, J. (2000). An Economic History of Malaysia, c. 1800-1990. The Transition to Modern Economic Growth, Palgrave Macmillan UK, London, 2000.
Durairaja, S., et. al. (2019). Corruption in Malaysia A Review, Indian Journal of Science and Technology, vol. 12, no. 24, s. 1 – 12.
Gliniak, P. (2016), The Washighton Concensus And The Experience Of Malaysia And Indonesia During The Asian Financial Crisis, Ekonomia XXI Wieku, vol. 9, nr 1, s. 65-79.
Hirschman, Ch. (1998). Ownership and control of the Malaysian economy revisited: a review of research in the 25 years since the publication of J.J. Puthucheary's classic', (in:) Puthucheary D., Jomo K.S. (eds.), No Cowardly Past: James J. Puthucheary Writings, Poems and Commentaries, INSAN, Kuala Lumpur, Malezja, s. .71-83.
Hirschman, Ch., Bonaparte, S. (2001). Population and Society in Southeast Asia: A Historical Perspective, (in:) Demographic Change in Southeast Asia: Recent Histories and Future Directions, Williams L., Guest Ph., (eds.), Southeast Asia Program Publication at Cornell University, Ithaca, NY, pp. 5-42.
Kaur, A. (2004). Wage Labour in Southeast Asia since 1840. Globalization, the International Division of Labour and La-bour Transformations, Palgrave Macmillan, London.
Lafaye, de Micheaux E. (2017). The Development of Malaysian Capitalism. From British Rule to the Present Day, IRD, Kuala Lumpur.
Lim, Ch. Y. (2001). Southeast Asia: The Long Road Ahead, World Scientific Publishing Company, Singapore.
Limoeiro, D. (2021). Economic Growth, Inequality and Crony Capitalism, The Case of Brazil, Routledge, New York.
North, D. C. (1991). Institutions, The Journal of Economic Perspectives, Vol. 5, No. 1, s. 97-112.
Ragayah, H. (2008). Income inequality in Malaysia, Asian Economic Policy Review, vol. 3, no. 1, s. 114-132.
Ragayah, H. (2014). Malaysian Development Experience: Lessons for Developing Countries, Institutions and Economies, vol. 6, no. 1, s. 17-56.
Rasiah, R. (2010). Industrialization in the second- tier NIEs, (in:) The New Political Economy of Southeast Asia, Rajah R., Schmidt J. D. (eds.), Edward Elgar, Cheltenham, s. 44 – 102.
Shamsul, A. B. (2001). A History of an Identity, an Identity of a History: The Idea and Practice of 'Malayness' in Malaysia Reconsidered, Journal of Southeast Asian Studies, vol. 32, s. 355 – 366.
Sowa, J. (2008). Enjoy your late grandchildren! Colonialism, globalisation, and radical democracy, Wydawnictwo Ha!art, Cracow. (In Polish)
Stankiewicz, W. (2012). Institutional Economics. Lecture outline, Wydawnictwo Prywatnej Wyższej Szkoły Businessu i Administracji, Warsaw. (In Polish).
Tajuddin, A. (2012). Malaysia in the World Economy (1824-2011): Capitalism, Ethnic Divisions, and "Managed" Democ-racy, Lexington Books, Lanham.
The Social Impact of the Asian Financial Crisis, ILO Regional Office for Asia and the Pacific, Bangkok, 1998.
Woźniak-Jęchorek, B. (2014). J.R. Commons vs. O.E. Williamson – two institutional schools and their achievements from a labour market economics perspective, Studia Prawno-ekonomiczne, vol. 92 (In Polish)
Yusof, S. A., Arshad, M. (2020). Estimations of business exposure in corruption in Malaysia, Journal of Financial Crime, vol. 27, no. 4, s. 1273-1287.
LIST OF REFERENCE LINKS
Social Progress Index Malaysia, URL, https://www.-socialprogress.org/?tab=2&code=MYS, 07.01.2020 (Ac-cessed 10.07.2021)
World Press Freedom Index, URL: https://rsf.-org/en/ranking, (Accessed 04.01.2020).
Economic Planning Unit, Household Income, Poverty and Household Expenditure, URL: http://epu.gov.my/en/socio-economic-statistics/household-income-poverty-and-household-expenditure, (Accessed 27.12.2020)
Freedom House Report 2019 Malaysia, URL: https://-freedomhouse.org/report/freedom-world/2019/malaysia, (Accessed 07.01.2020).
United Nations Development Programme, Human Development Report 2020, Malaysia, URL: http://hdr.undp.org/¬sites/all/themes/hdr_theme/country-notes/MYS.pdf, (Accessed 01.01.2020).
Reporters Without Borders (RSF), The situation of the press freedom in Malaysia, URL: https://rsf.org/sites/default/-files/rsf_upr_malaysia.pdf, (Accessed: 04.01.2020).
Transparency International, Corruption Perception Index 2019, Malaysia. URL: https://www.transparency.org/-en/cpi/2019/¬results/mys#details (Accessed: 7.11.2020).
The Diplomat, Malaysia's PM to Decide on Parliament Return as Pandemic Worsens. URL: https://thediplomat.com/-2021/07/malaysias-pm-to-decide-on-parliament-return-as-pandemic-worsens/ (Accessed: 10.07.2020)
The Economist Intelligence Unit, Democracy Index 2020: In sickness and in health?, URL: https://www.eiu.com/n/-campaigns/democracy-index-2020 (Accessed 10.07.2021).
World Values Survey Wave 7: 2017-2020. Questions 118 & 181. URL: http://www.worldvaluessurvey.org/WVSOnline.jsp, (Accessed: 23.12.2020)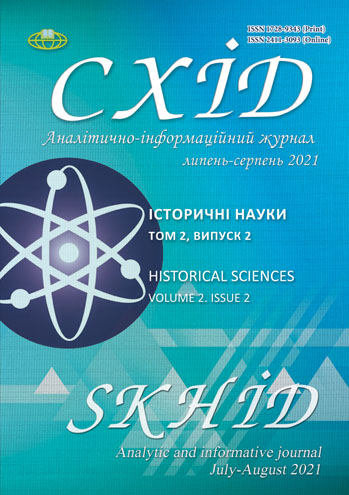 Downloads
How to Cite
GLINIAK, P. . (2021). FROM COLONIAL CAPITALISM TO CRONY CAPITALISM. HISTORICAL AND INSTITUTIONAL DETERMINANTS OF THE SOCIO-ECONOMIC MODEL FROM THE MALAYSIAN PERSPECTIVE. Skhid, 2(2), 5–13. https://doi.org/10.21847/1728-9343.2021.2(2).237411
Section
Research Articles
License
Copyright (c) 2021 PAWEL GLINIAK
This work is licensed under a Creative Commons Attribution-NonCommercial-NoDerivatives 4.0 International License.
1. Authors bear responsibility for the accuracy of facts, quotations, numbers and names used.
2. Manuscripts are not sent back.
3. The publisher does not always agree with the authors' opinion.
4. The authors reserve the right to authorship of the work and pass the first publication right of this work to the journal under the terms of a Creative Commons Attribution Non-Commercial License, which allows others to freely distribute the published research with the obligatory reference to the authors of the original work and the first publication of the work in this journal.
5. The authors have the right to conclude separate supplement agreements that relate to non-exclusive work distribution in the form in which it has been published by the journal (for example, to upload the work to the online storage of the journal or publish it as part of a monograph), provided that the reference to the first publication of the work in this journal is included.