CENSORSHIP IN SOCIAL NETWORKS AS A SOCIAL PRACTICE IN THE CONTEXT OF GLOBAL TRANSFORMATIONS
Keywords:
Internet censorship, information openness, post-truth, censorship methods, crisis in society, internet technology
Abstract
The article clarifies the socio-philosophical nature of censorship, the methods of its action and the restrictions it may impose on the information presented on social networks. Using specific examples from the work of social networks, the author argues that censorship creates the availability of information. The problem of user's subjectivity in the virtual space have been described. The complexity and contradiction of the phenomenon of censorship on the Internet have been disclosed. Technical, non-technical and indirect methods of implementing censorship frameworks for information in cyberspace have been analyzed. The technical methods are described in more detail in the article. They were grouped according to the following classification: methods that slow down the operation of services; methods that block the activity of services; methods that block information with human participation; methods that block information using algorithms; marking information as unreliable It is stated that censorship today complicates access to information instead of completely blocking it. The problem of new type of censorship on the Internet created by the recommendation systems have been considered. It is noted that the use of these systems enhances the subjectivity of users, and leads to the creation of echo cameras. Thus, the research hypothesis stating that "availability of information generates censorship" was confirmed with the above arguments and examples from the work of social networks.
References
Akala, A. (2020). Don't Censor! Stop The Hoaxes! Facebook, Twitter Face A Catch-22. NPR : National Public Radio. https://www.npr.org/2020/10/16/924625825/dont-censor-stop-the-hoaxes-facebook-twitter-face-a-catch-22.
Big Data from Kyivstar. https://kyivstar.ua/uk/business/-products/big-data
CNews (2018, March 15) Twitter sluchayno zapretil Memfis [Twitter accidentally banned Memphis]. https://secretmag.ru/news/twitter-sluchaino-zapretil-memfis.htm.
CNews (2018, May 23). Twitter blokiruyet polzovateley, pishushchikh kirillitsey, kak «russkikh trolley» [Twitter blocks users writing in Cyrillic as "Russian trolls"] https://www.cnews.ru/news/top/2018-05-23_twitter_blokiruet_vsehkto_ispolzuet_kirillitsu.
Demutska, A. V. (2021). Masovi emotsiyi v sotsialnykh komunikatsiyakh yak resurs posylennya masovo informatsiynoho vplyvu. International scientific and practical conference. 32–38 (In Ukrainian).
Dodonova, V. I. (2019). Populizm i postpravda yak skladovi vyborchoho protsesu v Ukrayini. Kyyivski filosofski studiyi. 355–360 (In Ukrainian).
Freedom House. https://freedomhouse.org/country/ukraine/-freedom-net/2020.
Harari, Yu. N. (2018). Homo Deus. Lyudyna bozhestvenna. Za lashtunkamy maybutnioho [trans. from English]. Kyiv: Book Chef, 512 p. (In Ukrainian)
Huizinga, Johan (2010). V teni zavtrashnego dnya. Chelovek i kultura. Zatemnennyy mir [trans. from. Netherland.]. St. Petersburg: Izdatelstvo Ivana Limbakha, 456 p. (In Russian)
Kholod, О. М. (2013). Sotsialni komunikatsiyi yak ponyattya v naukoviy haluzi "sotsialni komunikatsiyi". Psycholinguistics. 12: 286-293 (In Ukrainian).
Magun, A. V. (2011). Yedinstvo i odinochestvo. Kurs politicheskoy filosofii Novogo vremeni (Unity and loneliness. The course of political philosophy of modern times). Moscow: Novoye literaturnoye obozreniye 544 p.
Marczak, B. & Weaver, N. & Dalek, J. & Ensafi R. (2015). China's Great Cannon. The Citizen Lab University of Toronto. https://citizenlab.ca/2015/04/chinas-great-cannon/.
Mediakix (2020, June, 11). TOP 20 TIKTOK STATISTICS: KEY FACTS, FIGURES & DATA. https://mediakix.com/blog/top-tik-tok-statistics-demographic
Mlodinow, Leonard (2020). Pidsvidomist. Yak intuyityvnyy rozum lyudyny keruye yiyi povedinkoyu [trans. from English]. Kyiv: Hrupa KM-BUKS. 320 p. (In Ukrainian)
Muzhanova, T. М. (2015). Internet-tsenzura yak zahroza pravam hromadyan u sferi informatsiynoyi bezpeky. Suchasnyy zakhyst informatsiyi. 2 : 84–88.
O'Neill, Katie (2020). BIG DATA. Zbroya matematychnoho znyshchennya. Yak velyki dani zbilshuyut nerivnist i zahrozhuyut demokratiyi. Kyiv: Fors Ukrayina, 2020. 336 p. (In Ukrainian)
Parish, Helen L. (2020). A Brief History: The Reformation [trans. from. English]. St. Petersburg: CoLibri, Azbuka-Atticus, 272 p. (In Russian)
Pichugina, Yu. О. (2011). Tsenzura v sotsialno-komunikatsiynykh kanalakh (ohlyad publikatsiy). Visnyk Kharkivskoyi derzhavnoyi akademiyi kultury. 34: 250–257 (In Ukrainian).
Radio Svoboda Ukrayina (2021, April 24). YouTube zablokuvav dostup do «kanaliv Medvedchuka» dlya ukrayinskykh korystuvachiv [YouTube has blocked access to Medvedchuk's channels for Ukrainian users] https://www.radiosvoboda.org/a/news-youtube-kanaly-medvedchuka/31220540.html.
Radio Svoboda Ukrayina (2021, April 5). U Rosiyi prodovzhyly «upovilʹnennya» merezhi Twitter [Russia has continued to "slow down" Twitter] https://www.radiosvoboda.org/a/news-rosija-twitter-upovilnennya/31187762.html.
Reporters Without Borders. https://rsf.org/en/ukraine.
Spero, J. (2017). How to make every mobile moment a brand-builder. Think with Google. https://www.thinkwithgoogle.com/intl/en-cee/marketing-strategies/app-and-mobile/consumer-mobile-brand-content-interaction/.
Sytnikova, I. (2021, April 21). U Malayziyi za «obrazu korolevy» zatrymaly khudozhnyka, yakyy drazhnyv yiyi pleylystom u Spotify [In Malaysia, for "insulting the queen" detained an artist who teased her playlist on Spotify]. Hromadske telebachennya. https://hromadske.ua/posts/u-malajziyi-za-obrazu-korolevi-zatrima¬li-hudozhnika-yakij-drazhniv-yiyi-plejlistom-u-spotify.
Wilber, Ken (2019). Trump and a Post-Truth World. Kyiv: Terra Incognita, 136 p. (In Ukrainian)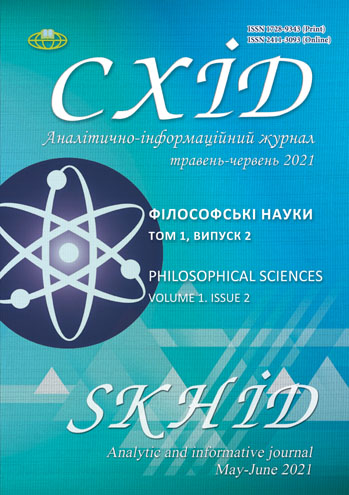 Downloads
How to Cite
DZIHORA, K. . (2021). CENSORSHIP IN SOCIAL NETWORKS AS A SOCIAL PRACTICE IN THE CONTEXT OF GLOBAL TRANSFORMATIONS. Skhid, 1(1(2), 58–64. https://doi.org/10.21847/1728-9343.2021.1(2).236144
Section
Theoretical articles
License
Copyright (c) 2021 Kyryl Dzihora
This work is licensed under a Creative Commons Attribution-NonCommercial-NoDerivatives 4.0 International License.
1. Authors bear responsibility for the accuracy of facts, quotations, numbers and names used.
2. Manuscripts are not sent back.
3. The publisher does not always agree with the authors' opinion.
4. The authors reserve the right to authorship of the work and pass the first publication right of this work to the journal under the terms of a Creative Commons Attribution Non-Commercial License, which allows others to freely distribute the published research with the obligatory reference to the authors of the original work and the first publication of the work in this journal.
5. The authors have the right to conclude separate supplement agreements that relate to non-exclusive work distribution in the form in which it has been published by the journal (for example, to upload the work to the online storage of the journal or publish it as part of a monograph), provided that the reference to the first publication of the work in this journal is included.