TRANSFORMATION OF THE JAPANESE MEMORY POLITIC IN THE II HALF OF XX-XXI CENTURIES IN THE CONTEXTS OF PAN-ASIAN AMBITIONS
Keywords:
Pan-Asianism, memory politic, New Asianism, Yasukuni Shrine
Abstract
The article is devoted to the analyses of the role of Pan-Asianism in the formation of the Japanese policy of memory in the period after World War II. Since the Meiji period, Japan has had a dual relationship with Asia: on the one hand, as a region of high spirituality and culture, on the other, as a region lagging behind the West or Europe in terms of economic, political and technological development. In the 1950s, when Japan was experiencing a period of economic crisis caused by the defeat of the war, the occupation regime, and the formation of military memory, we see a trend of Japanese intellectuals classifying Japan as "Asia". If during World War I Pan-Asian ideology was used to correct imperial ideology and colonialism, modern Pan-Asian concepts tend to create a union of Southeast Asian countries for support and mutual development. The further development of these sentiments depends on the implementation of existing ASEAN projects and the specifics of the adopted political and economic strategies of the Asian Commonwealth.
The articles provide the first comprehensive analysis of the constitutional documents, editions and speeches of Japanese politicians, which show the transformations of Japanese memory politic. The main terms of development of this policy, which consist in patient orientation and gradual formation of new Asianism, are separated. Discussions around Yasukuni-jinja and Japanese history textbooks as examples of these trends in Japanese politics are analyzed.
Provided that Japan's pacifist position is enshrined in the constitution, there are conservative and nationalist views on the Japanese war in Asia. As part of Japan's policy of remembrance, Pan-Asianism fosters an ambivalent attitude toward Japanese expansion in Asia. Subject to Japan's official admission of guilt to neighbouring countries, condemnation of expansionism and colonialism, and the transition to pacifism, there are conservative and nationalist views on the Japanese war in Asia. Within the conservative position, Japanese guilt is questioned and the need to recognize the heroic participants in the war is proclaimed, the "Great East Asian War" is interpreted as a war of self-defence, or the correctness and truth of Pan-Asian ideals of Taisho and Showa Japan are recognized.
References
Bix, H.P. (2001). Hirohito and the Making of Modern Japan Harper Perennial. Harper Perennial. 832 p.
Breen, J. (2010). Popes, Bishops and War Criminals: reflections on Catholics and Yasukuni in post-war Japan. The Asia-Pacific Journal, 8:9, 3. https://apjjf.org/-John-Breen/¬3312/article.html
Conrad, S. (2010) Remembering Asia: History and Memory in Post-Cold War Japan. In: Assmann A., Conrad S. (eds) Memory in a Global Age. Palgrave Macmillan Memory Studies. Palgrave Macmillan, London. https://doi.org/-10.1057/9780230283367_9
Deng, Y. (1997). Japan in APEC: The Problematic Leadership Role. Asian Survey, 37 (4) (April): 353-367.
Duus, P. (2001). The New Asianism. In: Arne Holzhausen. Can Japan Globalize? Studies on Japan's Changing Political Economy and the Process of Globalization in Honour of Sung-Jo Park. Heidelberg: Physica: 245–256.
Esenbel, S. (2007). The Legacy of the War and the World of Islam in Japanese Pan-Asianist Discourse: Wakabayashi Han's Kaikyō Sekai to Nihon. In: Rotem Kowner. Rethinking the Russo-Japanese War 1904–05. (Vol. 1. Centennial Perspectives). Folkestone: Global Oriental: 263–280.
Final Communique of The Asian-African Conference held in Bandung from 18th to 24th April, 1955. 10 p. https://bandungspirit.org/IMG/pdf/anri-bandung_conference-final_communique.pdf
Fretwell, L. (2016). What defined war memories in Japan during the postwar period and what impact did they have on Japan? Merici, 2: 69-76. http://press-files.anu.edu.au/¬down¬loads/press/n2328/pdf/ch08.pdf
H.E. Ambassador Liu Xiaoming's Article in the People's Daily: Militarism is Japan's "Voldemort" (2014, October 1). Embassy of the People's Republic of China in the United Kingdom of Great Britain and Northern Ireland. Embassy News. http://www.chinese-embassy.org.uk/eng/Embassy-News/¬2014/t1130676.htm
Hashimoto, Akiko (2015). The Long Defeat: Cultural Trauma, Memory, and Identity in Japan. New York: Oxford University Press. 208 p.
Hatoyama, Yukio. (2009, August 13). My Political Philosophy. Financial Times. https:///www.ft.com/intl/cms/s/0/99704548-8800-11de-82e400144feabdc0.html#axzz3qM8DswQI
Kapranov, S.V. (2015). Proekt Skhidnoaziyskoyi spilnotyi mistse Kytayu v niomu: yaponskyy pohlyad. Skhodoznavstvo, 70: 50-68 (In Ukrainian).
Kapranov, S.V. (2017). Kytay v ideolohiyi yapons'koho panaziatyzmu. In: Kytay ochyma Aziyi. Kyiv: Instytut skhodoznavstva im. A. Yu. Krymskoho NAN Ukrayiny: 146–217 (In Ukrainian).
Kim, Mikyoung. (2008). Pacifism or Peace Movement?: Hiroshima Memory Debates and Political Compromises. Journal Of International And Area Studies, 15(1): 61-78. https://s-space.snu.ac.kr/bitstream/10371/96462/1/5.-Pacifism-or-Peace-Movement-Hiroshima-Memory-Debates-and-Political-Compromises-Mikyoung-Kim.pdf
Kumakura, Isao. (1989). Tea in Japan: Essays on the History of Chanoyu. University of Hawaii Press. 285 p.
Lawson, S. (2011). War memories and Japan's 'normalization' as an international actor: A critical analysis. European Journal of International Relations. 17(3): 405-428. https://doi.org/10.1177/1354066110365972
Mahathir, bin Mohamad. (1994). Regional Grouping in the Pacific Rim: An East Asian Perspective. In: The Future of The Pacific Rim: Scenarios for Regional Cooperation. Westport, Connecticut-London, pp. 50-68.
New History Textbook (2005). Chapter 4 & 5. Tokyo: Fusosha. https://web.archive.org/web/20050906080746/http://www.tsukurukai.com/05_rekisi_text/rekishi_English/English.pdf
Takenaka, A. (2015). Yasukuni Shrine: History, Memory and Japan's Unending Postwar. Honolulu: University of Hawai'i Press, and Studies of the Weatherhead East Asian Institute Series, Columbia University. 296 p.
Takenaka, A. (2016). Mobilizing Death: Bodies and Spirits of the Modern Japanese War Dead. Palgrave Macmillan, pp. 351-363.
Tankha, B. (2003). Okakura Tenshin and Pan-Asianism: Shadows of the Past. Kent, UK: Global Oriental. 176 p.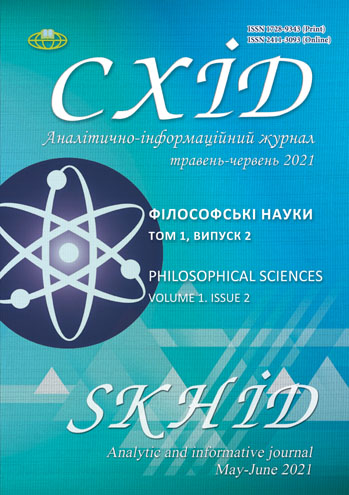 Downloads
How to Cite
BIBIK, O. . (2021). TRANSFORMATION OF THE JAPANESE MEMORY POLITIC IN THE II HALF OF XX-XXI CENTURIES IN THE CONTEXTS OF PAN-ASIAN AMBITIONS. Skhid, 1(1(2), 27–32. https://doi.org/10.21847/1728-9343.2021.1(2).236141
Section
Research Articles
License
Copyright (c) 2021 Oleksandra Bibik
This work is licensed under a Creative Commons Attribution-NonCommercial-NoDerivatives 4.0 International License.
1. Authors bear responsibility for the accuracy of facts, quotations, numbers and names used.
2. Manuscripts are not sent back.
3. The publisher does not always agree with the authors' opinion.
4. The authors reserve the right to authorship of the work and pass the first publication right of this work to the journal under the terms of a Creative Commons Attribution Non-Commercial License, which allows others to freely distribute the published research with the obligatory reference to the authors of the original work and the first publication of the work in this journal.
5. The authors have the right to conclude separate supplement agreements that relate to non-exclusive work distribution in the form in which it has been published by the journal (for example, to upload the work to the online storage of the journal or publish it as part of a monograph), provided that the reference to the first publication of the work in this journal is included.