HUMAN IN THE WORLD OF TECHNOLOGIES: ATTEMPT TO CONCEPTUALIZE A NEW ONTOLOGY
Keywords:
ontology, culture, subjectivity, technique, technology, sociality, virtual
Abstract
The article is devoted to the philosophical analysis of the phenomenon of technology and its influence to the content of modern socioculture. Based on the tradition of interpreting the phenomenon of technology as an explication of the content and structure of knowledge, the algorithm of effective activity and interaction, the author argues that the development of technology is not identical to increasing the number of tools and mechanisms, but means, above all, a simple and effective model of communication and social cooperation, which causes scientific and technological progress. It is argued that technology is the cement of modern culture, the channel of interaction between different levels of architecture of modern civilization. The understanding of the actual ontology of the technocratic standard as a space of pure freedom, purity of metaphysics is consistently substantiated, and therefore it is conceptualized that technology is the realization or materialization of possibility. It is proved that the metaphysical category of essence is replaced by the principle of functionality in the space of virtuality in the modern information society. The author argues that the development of virtual reality technologies is not the cause of such processes, but rather a natural consequence of history as the progress of human freedom. The idea of parity of actual and potential in the worldview orientations of the inhabitant of virtual space is substantiated, and it's creates a distorted focus of perception of everyday life as vague and meaningless. Accordingly, virtual reality changes the predications of its own expediency: from the purpose of sublimation of irrational impulses to the production of rationality of a new emotional-affective variety, the criterion of which is fair to consider the metrics of public attention and publicity. The author argues that given the understanding of culture as a strategy of human survival, the issue of education is especially important not only as the acquisition of certain competencies, but also as a fundamental "experience of the possible."
References
Barricelli, B. R. & Gadia, D., Rizzi, A., Marini, D. L. R. (2016). Semiotics of virtual reality as a communication process. Be-haviour & Information Technology. 35(11): Virtual reality in learning, collaboration and behaviour: content, systems, strategies, context designs: 879–896. https://doi.org/-10.1080/0144929X.2016.1212092
Böhme, G. (2008). Invasive Technologie: Technikphilosophie und Technikkritik, Kusterdingen: Die Graue Edition.
Bondarenko, T. A. (2007). Virtualnaya realnost v sovremennoy sotsialnoy situatsii. Dissertation of Doctor of Philosophy. Retrieved from https://www.dissercat.com/content/virtualnaya-realnost-v-sovremennoi-sotsialnoi-situatsii. (In Russian)
De La Paz, Gabriel H. (2014). Modifying reality: marketing for the 22nd century. Journal of Global Scholars of Marketing Sci-ence. Bridging Asia and the World. 24 (3): Contribution of Philosophy to the Advancement of Marketing Thought: 246–261. https://doi.org/10.1080/21639159.2014.911493
Ellison, K. & Matthews, C. (2010). Virtual history: a socially net-worked pedagogy of enlightenment. Educational Research. 52 (3): 297–307. https://doi.org/10.1080/00131881.2010.-504065
Galkin, A. I. (2004). Filosofskiye problemy virtualnoy realnosti. Izvestiya vysshikh uchebnykh zavedeniy. Severo-Kavkazskiy region. Obshchestvennyye nauki. (4): 3–9. Retrieved from https://cyberleninka.ru/article/n/filosofskie-problemy-virtualnoy-realnosti
Gunkel, D. (2000). Rethinking virtual reality: Simulation and the deconstruction of the image. Critical Studies in Media Com-munication. 17 (1): 45–62. https://doi.org/10.1080/¬152950-30009388375
Gunkel, D. J. (2008). The matrix reconsidered. Thinking through binary logic in science fiction and social reality. Information, Communication & Society. 11(6): Social Science Fiction: Thinking Beyond the Information Society. 816–830. https://doi.org/10.1080/13691180802005204
Jones, S. (1993). A sense of space: Virtual reality, authenticity and the aural. Critical Studies in Mass Communication. 10(3): 238–252. https://doi.org/10.1080/15295039309366866
Katell, Michael & Dechesne, Francien & Koops, Bert-Jaap & Meessen, Paulus (2019). Seeing the whole picture: visualis-ing socio-spatial power through augmented reality. Law, In-novation and Technology. 11 (2): 279–310. https://doi.org/10.1080/17579961.2019.1665800
Kelemen, M. & Smith, W. (2001). Community and its 'virtual' promises: a critique of cyberlibertarian rhetoric. Information, Communication & Society. 4 (3) : 370–387.
Lubsky, A. V. (2011). Sotsialnyye nauki i sotsialnaya realnost: k voprosu o pogruzhenii v virtualnost. Nauchnaya mysl Kavkaza. (4): 19-29 (In Russian).
Maturana, U. (2001). Drevo poznaniya: Biologicheskiye korni chelovecheskogo ponimaniya. Moscow: Progress-Traditsiya. (In Russian)
Mccann, Jaymi (2013, July, 14). No time for the family? You are not alone: Parents and children spend less than an hour with each other every day because of modern demands. MailOnline. URL: http://www.dailymail.co.uk/news/article-2363193/No-time-family-You-Parents-children-s pend-hour-day-modern-demands.html
Mejias, Ulises (2001). Sustainable communicational realities in the age of virtuality. Critical Studies in Media Communica-tion. 18 (2) : 211–228. https://doi.org/10.1080/073931¬80128-075
Pappin, G. J. (2012). In the Image of Technology: Modern Free-dom, Virtual Reality. Perspectives on Political Science. 41 (4) : 207–215. https://doi.org/10.1080/10457097.2012.713266
Whitby, B. (1993). The virtual sky is not the limit: ethics in virtual reality. Intelligent Tutoring Media. 4 (1): 23–28. https://doi.org/10.1080/14626269309410069
WHO (2014, March, 25). 7 million premature deaths annually linked to air pollution. Retrieved from http://www.who-.int/mediacentre/-news/releases/2014/air-pollution/en/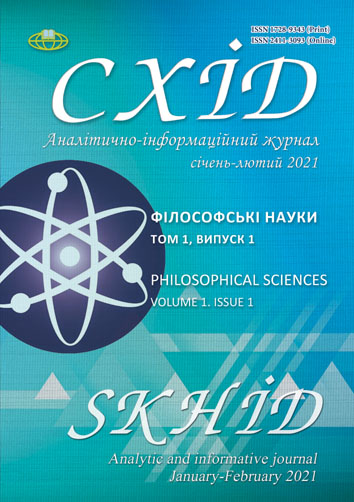 Downloads
How to Cite
Yatsenko, O. . (2021). HUMAN IN THE WORLD OF TECHNOLOGIES: ATTEMPT TO CONCEPTUALIZE A NEW ONTOLOGY. Skhid, 1(1), 48–54. https://doi.org/10.21847/1728-9343.2021.1(1).225445
Section
Philosophical anthropology
License
Copyright (c) 2021 Olena Yatsenko
This work is licensed under a Creative Commons Attribution-NonCommercial-NoDerivatives 4.0 International License.
1. Authors bear responsibility for the accuracy of facts, quotations, numbers and names used.
2. Manuscripts are not sent back.
3. The publisher does not always agree with the authors' opinion.
4. The authors reserve the right to authorship of the work and pass the first publication right of this work to the journal under the terms of a Creative Commons Attribution Non-Commercial License, which allows others to freely distribute the published research with the obligatory reference to the authors of the original work and the first publication of the work in this journal.
5. The authors have the right to conclude separate supplement agreements that relate to non-exclusive work distribution in the form in which it has been published by the journal (for example, to upload the work to the online storage of the journal or publish it as part of a monograph), provided that the reference to the first publication of the work in this journal is included.