MODERN UKRAINIAN PENTECOSTAL THEOLOGY: FROM HISTORY OF DEVELOPMENT TO CONTENT OF RESEARCHES
Keywords:
modern Pentecostal theology, Ukrainian Pentecostal education, Ukrainian Pentecostal Church Union, Christians of the Evangelical Faith, Pentecostal theological researches
Abstract
The article reflects the main historical stages of the formation of Ukrainian Pentecostal theology over the past thirty years: from the "birth" of the first church schools to the defense dissertations of doctoral level. Author has presented connection between post-soviet Pentecostal dogmatic system with evangelical traditional of dispensationalism and literal hermeneutic method in study of the Bible. Obviously, that Pentecostal Churches were strongly influenced through the Baptist Bible Courses in Moscow, because many Pentecostal leaders completed them. The author demonstrated the role of Bible Seminaries founded in independent Ukraine by western missioners of leading church`s unions, like the Assembly of God and the Church of God. The article identifies two models of the Pentecostal education ("church" and "academic" approaches) that address to the different needs of church society. "Church" type of theological education tries to teach important topics connected with applied questions of church ministry. However, this approach has a weak side hidden in methodology of research. As a result, not all research papers completed by graduates of the church-oriented school are interesting for Ukrainian scientific society. For control of quality in Ukrainian theological schools, EAAA was founded. Another direction of the development of the Ukrainian pentecostal theological model thinking is the "academic model" of theological education, that today develops in cooperation with state institutions. Through the analysis of the topics of defended dissertations, the author identifies key trends in the development of the Ukrainian Pentecostal movement. Among key topics, there is introspective research of the own roots, reasons of spreading alternative church movement in USSR, and its place on the World religious map. Like prognostic conclusion of all the text, the author identified several topics that may be interesting for Western academic partners, like "theology of Maidan", "Church peaceful strategies for East of Ukraine" and "Ecological theology in light of Chernobyl's tragedy".
References
Bornovolokov, O. V. (2019). Identychnist ukrayinskoho pyatyde-syatnytskoho rukhu: (PhD Dissertation). Kyiv, 228 p. (in Ukrainian).
Boyechko, Vasilyi (2005). Blizok vsemu konets. Lvov: Dobryy Samaryanin, 62 p. (in Russian).
Boyechko, Vasyl (2003). Khram Dukha Svyatoho. Lviv: Dobryy samaryanyn, 418 р. (in Russian).
Boyechko, Vasyl (2010). Neskorena Tserkva. Lviv: Dobryy Sa-maryanyn, 493 p. (in Ukrainian)
EAAA (2009). Akademicheskiye Standarty dlya programm lyuboy form obucheniya. Odessa: Yevro-Aziatskaya Akkredita-tsionnaya Assotsiatsiya. 22 p. (in Russian).
Franchuk, Vladimyr (2002). Prosyla Rossyya dozhdya u Gospoda. Kyiv: Svitankova zorya, 648 p. Vol. 1 (in Russian).
Horton, S. (1999). Sistematicheskoye bogosloviye (translate from Engl.) Sprigfild, Missuri, SSHA: Life, 1999. 935 s. (in Rus-sian)
Hura, V. (2019). Eskhatolohiya khrystyyan viry yevanhelskoyi (pyatydesyatnykiv). (PhD Dissertation). Kyiv, 268 p. (in Ukrainian).
Hura, V.(2018). Model «eskhatolohichnoyi ekleziolohiyi» nezar-eyestrovanykh pyatydesyatnykiv v SRSR: istoryko-kulturni umovy rozvytku, sut ta suspilni naslidky. Praktychna filoso-fiya. 3 (69): 103-110. (in Ukrainian).
Karkkainen, Veli-Matti (2008). Pneumatology: The Holy Spirit in Ecumenical, International, and Contextual Perspective. Grand Rapids, MI, USA: Baker Academic, 250 p.
Khromets, V. (2018). Pochatok formuvannya normatyvno-pravovoho zabezpechennya bohoslovsʹkoyi osvity v nezalezhniy Ukrayini. SKHID, 3 (155): 88-93. https://doi.org/10.21847/1728-9343.2018.3(155).139413 (in Ukrainian)
Kim, Kirsteen (2017). Pentecostalism and the Development of Theology of the Holy Spirit. Pentecost Journal of Theology and Mission. Oral Roberts University. 22.-32
Kulish, P. (translat., ed.) (2006). Bibliya z komentaryamy. Kyiv Printed in Belarus: Life Rublishers International, 2234 p. (in Ukrainian)
Lyubashchenko, V. I. (1996). Istoriya protestantyzmu v Ukrayini. Kyiv: POLIS, 1996 350 p. (In Ukrainian).
Marzanova, S. K. (1970). Antinauchnaya sushchnost pyatidesyat-nichestva v Bolgarii. (PhD thesis) Moscow State University, 40 s. (In Russian)
Menzis, V. (1999). Bibliyni doktryny: pyatydesyatnytsʹkyy pohlyad. Sprinhfild, Miccuri, SSHA: Life, 1999. 332 s. (in Ukrainian).
Mokiyenko, M. M. (2018). Fenomen pyatydesyatnytstva. Rivne: Dyatlyk M., 440 s. (In Ukrainian)
Nechyporuk, A. (2020) Upravlinnya yakistyu osvity u zakladi vyshchoyi osvity UTSKHVYE : dys. dokt. prakt. boho-slovʺya: 09.00.14 ETU: Kyyiv, 2020. – 335 s. (in Ukrainian).
Rusin, I. I. (2019) Misionalna teolohiya Lesli Nyubihina ((PhD Dissertation Thesis)). Kyiv, 24 p. (in Ukrainian).
Sannikov, S. (2016). Slavyanskiy Bibleyskiy Kommentariy, YEAAA, Knigonosha, 2016. 1840 p. (in Russian).
Soloviy R. P. (2017) Fenomen Vynykayuchoyi tserkvy. U konteksti teolohichnykh ta ekleziolohichnykh transformatsiy u suchasnomu zakhidnomu protestantyzmi (Doctor Disserta-tion Thesis). Kyiv, 38 p. (in Ukrainian).
Soloviy, R. (2016). Odkrovennya i Pysannya: bohoslovsʹke os-myslennya Vynykayuchoyi tserkvy. Skhid. 1 (141): 76-82. https://doi.org/10.21847/1728-9343.2016.1(141).64817 (in Ukrainian).
Tishchenko, A. H. (2020). Osoblyvosti stanovlennya y instytual-izatsiyi kharyzmatychnykh tserkov u suchasniy Ukrayini (na prykladi mizhnarodno khrystyyansʹkoho rukhu "Nove Pokolinnya"): (PhD dissertation thesis) Kyiv, 19 p. (in Ukrain-ian).
Yarotskyy, Petro (2008). Istoriya relihiyi v Ukrayini v 10-ty tomakh. Tom 6. Pizniy protestantyzm:p`yatydesyatnyky, adventysty. Kyyiv-Drohobych: Surma, 632 p. (in Ukrainian).
Yong, Amos (2002). Spirit, Word, Community: Theological Her-meneutics in Trinitarian Perspective. Eugene: Wipf & Stock Pub, 375 p.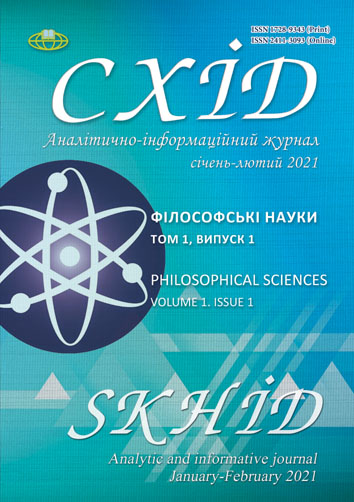 Downloads
How to Cite
Hura, V. (2021). MODERN UKRAINIAN PENTECOSTAL THEOLOGY: FROM HISTORY OF DEVELOPMENT TO CONTENT OF RESEARCHES. Skhid, 1(1), 61–66. https://doi.org/10.21847/1728-9343.2021.1(1).225329
Section
Religious studies
License
Copyright (c) 2021 Vitalii Hura
This work is licensed under a Creative Commons Attribution-NonCommercial-NoDerivatives 4.0 International License.
1. Authors bear responsibility for the accuracy of facts, quotations, numbers and names used.
2. Manuscripts are not sent back.
3. The publisher does not always agree with the authors' opinion.
4. The authors reserve the right to authorship of the work and pass the first publication right of this work to the journal under the terms of a Creative Commons Attribution Non-Commercial License, which allows others to freely distribute the published research with the obligatory reference to the authors of the original work and the first publication of the work in this journal.
5. The authors have the right to conclude separate supplement agreements that relate to non-exclusive work distribution in the form in which it has been published by the journal (for example, to upload the work to the online storage of the journal or publish it as part of a monograph), provided that the reference to the first publication of the work in this journal is included.