Exploration of Ozokerite Deposits on the Territory of Austrian Galicia: Short Historical Survey
Keywords:
ozokerite, mining, mine, Boryslaw, value, production, corona
Abstract
The article is devoted to the history of ozokerite mining in Galicia during the 19th – the first third of the 20th century. The historiography of the issue has been considered as well as the main scientists, who devoted their works to mineral description and forecasted ozokerite deposits on Galicia territory, have been highlighted. Having based on the presented studies, the volumes, technical supply and staffing of ozokerite industry have been revealed. Comparison of ozokerite deposits' investigation in different years has been accomplished due to comparative historical method. Moreover, structure and functions of ozokerite industry in Galicia, its external and internal connections have been analyzed. It was mentioned that ozokerite mines were in Boryslaw, Truskavets, Dzvyniachi, Staruni and other towns. Deposits of ozokerite-rich mineral were estimated in 30 ml tons at the end of the 19th century. Boryslaw's mine was actively explored: up to 1.5-5 thou mines worked yearly where 2-10 tons of pure ozokerite were mined in 1850–1900-s. The peak of development was achieved at the last quarter of the 19th century where 10-19 thou tons were mined. At the beginning of the 20th century was a gradual decay of industry where only 2.6-3.5 thou tons of ozokerite were mined. The price of pure ozokerite had been constantly soaring from 280 to 1533 corona for 1 ton of mineral from the mid of 19th century. Annual ozokerite production varied between 200 and 500 tons in Truskavets, Dzvyniachi, Staruni. Due to ozokerite deposits' depletion and reducing demand on the international market, annual ozokerite production had decreased from 3.7 to 1.6 thou tons during 1900–1913-s and during the interwar period – up to 0.7 thou tons. Consolidation of mining companies led to production enlargement; as a result there were 20-25 mining companies and 2-3 processing plants in Galicia at the beginning of the 20th century.
References
Bujak, Fr. (1910). Galicya. Lwow : Nakładem księgarni H. Altenberga ; Warszawa: Księgarnia pod Firmą E. Wende i Spółka. Tom II. Leśnictwo, górnictwo, przemysł. 509 s. (In Polish)
Engler, C., Höfer, H. (1909). Das Erdöl. Leipzig : Verlag S. Hirzel. Band. 2. 964 s. (In German)
Hacquet, B. (1788). Neueste physikalisch-politische Eeiscn aurch die Dacischen und Sarmatischen Karpathen. Theil III. Pag. 108. (In German)
Klapchuk, V. (2017а). Ozokerytova lykhomanka. Vydobuvannia ozokerytu u Halychyni XIX stolittia Retrieved from http://photo-lviv.in.ua/ozokerytova-lyhomanka-vydobuvan¬nya-ozokerytu-u-halychyni-xix-stolitti/. (Accessed 2020, October, 03). (In Ukrainian)
Klapchuk, V. (2017b). Ozokerytovyi Klondaik Halychyny (kinets XIX – pochatok XX st.). Retrieved from http://photo-lviv.in.ua/ozokerytovyj-klondajk-halychyny-kinets-xix-pochatok-xx-st/. (Accessed 2020, October, 01). (In Ukrainian)
Klapchuk, V.M. (2012). Rozvytok ozokerytovoyi haluzi u Halychyni XIX-XX st. Mandrivets, 4(10): 51-59. Retrieved from http://www.irbis-nbuv.gov.ua/cgi-bin/irbis_nbuv-/cgiirbis¬_64.-exe?I21DBN=LINK&P21DBN=UJRN&Z21ID=&S21REF-=10&S21CNR=20&S21STN=1&S21FMT=ASP_meta&C21COM=S&2_S21P03=FILA=&2_S21STR=Mandriv_2012_4_10 (Accessed 2020, September, 12). (In Ukrainian)
Kluk, Krzysztof (1781). Rzeczy koralnych osobliwe zdatniejszych szukanie, poznanie і zażycie. Vol.1. Warszawa: Drukarnia J.K.Mci i Rzeczyplitey u XX. Schol: Piarum (In Polish)
Kovalchenko, I. D. (2003). Metody istoricheskogo issledovaniya. Moscow: Nauka, 2003. 486 s. (In Russian)
Polski przemysł naftowy (1934). Lwów. Tabl. 56 (In Polish)
Skorowidz przemysłowo-handlowy Krόlewstwa Galicyi (1906). Lwow. S. 155–156. (In Polish)
Skorowidz przemyslowo-handlowy Krόlewstwa Galicyi (1912). Lwόw. Wyd. II. S. 358. (In Polish)
Szajnocha, W. (1894). Płody kopalne Galicyi, ich występowanie i zużytkowanie. Lwów : Z drukarni W. Łozińskiego, 1894. Cz. II. Sole potasowe. Kopalnie i warzelnie soli. Wosk ziemny. S. 118–149, 158–160 (160 s.). (In Polish).
Tatomir, L. (ed.) (1876). Podręcznik geografii Galicyi. Lwów. (In Polish).
Walter, Ph. (1840). Note sur une cire fossile de la Galicie : Annales de chimie et de physique. Paris. T. 75. (In French)
Windakiewicz, E. (1875). Olej i wosk ziemny w Galicyi. Lwów. (In Polish)
Wykopaliska Staruńskie (1914). Kraków. 386 s. (In Polish)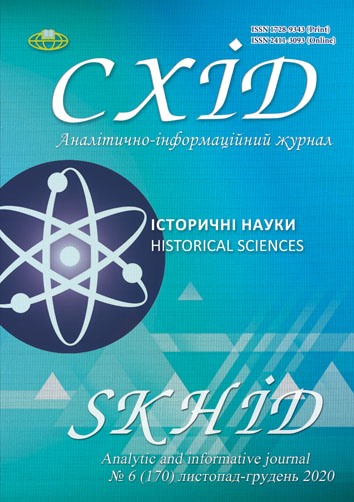 Downloads
Section
History of Ukraine
License
Copyright (c) 2020 Volodymyr Klapchuk, Igor Makaruk, Oleksandr Novosiolov, Lesia Polyova
This work is licensed under a Creative Commons Attribution-NonCommercial-NoDerivatives 4.0 International License.
1. Authors bear responsibility for the accuracy of facts, quotations, numbers and names used.
2. Manuscripts are not sent back.
3. The publisher does not always agree with the authors' opinion.
4. The authors reserve the right to authorship of the work and pass the first publication right of this work to the journal under the terms of a Creative Commons Attribution Non-Commercial License, which allows others to freely distribute the published research with the obligatory reference to the authors of the original work and the first publication of the work in this journal.
5. The authors have the right to conclude separate supplement agreements that relate to non-exclusive work distribution in the form in which it has been published by the journal (for example, to upload the work to the online storage of the journal or publish it as part of a monograph), provided that the reference to the first publication of the work in this journal is included.