EVOLUTION OF BUSINESS ETHICS: FROM GENERAL PHILOSOPHICAL PRINCIPLES TO CORPORATE SOCIAL RESPONSIBILITY
Keywords:
responsibility, social responsibility of business, ethics, morality, personal responsibility
Abstract
The article traces the evolution of business ethics from the ideas of simple human responsibility that were put forward by ancient thinkers to complex philosophical moral and ethical, socio-economic constructions on corporate social responsibility. It is noted that in the process of such evolution a whole system of views, judgments and constructions was formed, which should be considered as peculiar stages of further theoretical understanding and expansion of the thematic framework of the phenomenon of "corporate social responsibility". The analysis showed that the issues of business ethics and social responsibility (and corporate social responsibility as its highest manifestation) have always been most raised in the so-called turning points in the worldview paradigm of human civilization, and the most important theoretical achievements are related to the rationalization of social relations, when the acquired moral and spiritual values were included in the growth of socio-economic resources of society. It is shown that in the 21st century there is a steady demand from business to study the issue of social responsibility, which allows social technologists – representatives of various scientific fields to expand the categorical apparatus, filling new concepts of business ethics, as well as initiate new scientific discussions – valuable principles of society and various pragmatic concepts, the components of which are "principles-process-results".
References
Andryushchenko, A.I., Ryabets, I.M. (2009). Sotsialna vidpo-vidalnist: teoretyko-metodolohichnyy aspekt analizu. Visnyk Kharkivskoho natsionalnoho universytetu im. V.N. Karazina, 844 (23): 133 – 135.
Apel, K.-O. (1999). Dyskursyvna etyka yak politychna etyka vidpovidalnosti u sytuatsiyi suchasnoho svitu (translat. from Germ. by A.Yermolenko). In: A.Yermolenko Komunikatyvna praktychna filosofiya. Kyiv : Libra, 395-412 (In Ukrainian).
Breus, S., Solokha, D., Bieliakova, O., Derii, Z. & Dielini, M. (2020). Entrepreneurship development model under conditions of business social responsibility. Academy of Entrepreneurship Journal, 26 (3): 1-8. Retrieved from https://www.¬abacademies.org/articles/Entrepreneurship-development-model-under-conditions-of-business-social-responsibility-1528-2686-26-3-364.pdf.
Brieger, S.A., Anderer, S., Fröhlich, A. et al. (2020). Too Much of a Good Thing? On the Relationship Between CSR and Employee Work Addiction. J Bus Ethics, 166: 311–329. DOI: https://doi.org/10.1007/s10551-019-04141-8.
Busakorn Watthanabut (2017, July-December). The Corporate Social Responsibility according to Kant Moral's Philosophy. Asian Political Science Review, 1 (2): 13-18.
Carroll, A.B. (2016)/ Carroll's pyramid of CSR: taking another look. Corporate Soc Responsibility,1, 3 DOI: https://doi.¬org/¬10.1186/s40991-016-0004-6
Dielini, M.M. (2014). Multyvymirnyy aspect vidpovidalnosti pidpryyemnytstva ta yiyi rol v rozvytku natsionalnoyi ekonomiky. Efektyvna ekonomika, 12. URL : http://www.eco¬nomy.nayka.com.ua/?op=1&z=6147 (In Ukrainian)
Filosofskiy entsiklopedicheskiy slovar (1983). Ovetstvennost. Moscow: Sovetskaya entsiklopediya: 469. (In Russian)
Gadzhikurbanova, P. A. (2003). Strakh i otvetstvennost: etika tekhnologicheskoy tsivilizatsii Gansa Yonasa. Eticheskaya mysl, 4: 161-178 (In Russian).
Giddens, Anthony (1990). The Consequences of Modemity. Cambridge: Polity Press.
Ivanova, O. I. (2012). Yurydychna vidpovidalnist yak riznovyd sotsialnoyi vidpovidalnosti [Legal liability as a kind of social responsibility]. Visnyk Akademiyi advokatury Ukrayiny. Chyslo 3 (In Ukrainian)
Jonas, G. (2001). Pryntsyp vidpovidalnosti. U poshukakh etyky dlya tekhnolohichnoyi tsyvilizatsiyi (translat. from Germ). Kyiv: Libra, 400 p.
Koehn, D. (2020). How Would Confucian Virtue Ethics for Business Differ from Aristotelian Virtue Ethics?. J Bus Ethics, 165: 205–219. DOI : https://doi.org/10.1007/s10551-019-04303-8.
Kolot, A. M., Hrishnova, O. A., Herasymenko O. O. et al. (2015). Sotsialna vidpovidalnist. Kyiv : KNEU, 519 p. (In Ukrainian)
Kravchenko, A. A. (2013). Arkhetyp uchytelya: ideya, obraz, vidpovidalnist [Archetype of the teacher: idea, image, re-sponsibility: monograph]. Lviv : Vyd-vo "Liha-Pres" (In Ukrainian)
Morsing, M., & Spence, L. J. (2019). Corporate social responsibility (CSR) communication and small and medium sized enterprises: The governmentality dilemma of explicit and implicit CSR communication. Human Relations, 72(12): 1920–1947. DOI: https://doi.org/10.1177/0018726718804306.
Platonova, A. V. (2013). Subyekty moralnogo soznaniya v sovremennom obshchestve: o tipakh kollektivnoy otvet-stvennosti. Vestnik Tomskogo gosudarstvennogo univer-siteta. 373: 75-79. (In Russian)
Ruchkina, M. V. (2008). Otvetstvennost kak sposob samo-zashchity subyekta riska. Izvestiya Rossiyskogo gosudarstvennogo pedagogicheskogo universiteta im. A. I. Gertsena, 82 (1): 309–315. (In Russian)
Shybko, O. I. (2012). Zrostannya sotsialnoyi vidpovidalnosti yak obyektyvna zakonomirnist tsyvilizatsiynoho postupu [The growth of social responsibility as an objective law of civilized progress,] Skhid, 5 (119) : 150-153 (In Ukrainian).
Silveira R.A., Muzzio H., Costa F.J. (2015). A Philosophical Reflection about Ethics and Corporate Social Responsibility. Revista de Negocios, 20 (3). DOI: http://dx.doi.org/¬10.7867/1980-4431.2015v20n3p16-27
Titarenko, O. (2008). Istoriya rozvytku katehoriyi «vidpovidalnist» u sotsialniy filosofiyi. Humanitarnyy chasopys, 2: 122-130. (In Ukrainian)
Yermolenko, A. N. (1994). Etika otvetstvennosti i sotsialnoye bytiye cheloveka. Kyiv: Naukova dumka, 200 p. (In Russian)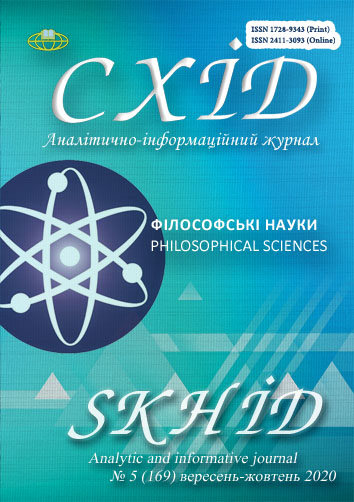 Downloads
How to Cite
Dielini, M. (2020). EVOLUTION OF BUSINESS ETHICS: FROM GENERAL PHILOSOPHICAL PRINCIPLES TO CORPORATE SOCIAL RESPONSIBILITY. Skhid, (5(169), 18–23. https://doi.org/10.21847/1728-9343.2020.5(169).215304
Section
Social Philosophy
License
Copyright (c) 2020 Maryna Dielini
This work is licensed under a Creative Commons Attribution-NonCommercial-NoDerivatives 4.0 International License.
1. Authors bear responsibility for the accuracy of facts, quotations, numbers and names used.
2. Manuscripts are not sent back.
3. The publisher does not always agree with the authors' opinion.
4. The authors reserve the right to authorship of the work and pass the first publication right of this work to the journal under the terms of a Creative Commons Attribution Non-Commercial License, which allows others to freely distribute the published research with the obligatory reference to the authors of the original work and the first publication of the work in this journal.
5. The authors have the right to conclude separate supplement agreements that relate to non-exclusive work distribution in the form in which it has been published by the journal (for example, to upload the work to the online storage of the journal or publish it as part of a monograph), provided that the reference to the first publication of the work in this journal is included.