Apocalyptic reflections in the studies of the Russian orthodox priest Alexander Men
Keywords:
apocalyptic, orthodoxy, Christianity, theology, crisis, Bible, New Testament, prophecy
Abstract
The relevance of the article is due to the increased interest in the cultural heritage of the last century. The creative achievements and worldviews of priest Alexander Men, which are a significant component of the spiritual Russian culture, have been investigated. The works of Alexander are open to secular culture, science, to other faiths, non-Christian religions and deep church roots, they are accessible and simple for readers. Alexander Men did not create a special doctrine, because his main task was spiritual enlightenment and the exaltation of souls. Alexander Men was gifted not only with an analytical mind but also with a prophetic gift. Predictions about future are picked up by ignorant people and not only mislead them, but also become a source of distorted ideas about the Bible argued Alexander Men. First of all, Alexander Men in his researches seeks to answer the main questions that concern people, to reveal the very essence of the mysterious book of the Bible, to make its deep content not only a narrow circle of specialists, but also a wide reader. In the article a comprehensive analysis of the interpretation of the theologian's apocalyptic prophecies has been conducted. Alexander Men denies literal understanding of the Apocalypse images and emphasizes to allegorical character of this book. Numerous symbols, fantastic images and visions are revealed through the images of the prophetic books of the Old Testament. His initial thesis is to understand the Apocalypse as a permanent reality. Therefore, according to the theologian Alexander, apocalyptic prophecies are constantly being fulfilled and reproduced. The reasons for not accepting the apocalyptic reflections of Alexander Men by Orthodox priests have been defined: contradictory interpretations of Scripture, admiration for scientific facts, inclination for Catholicism, distortion of spiritual Orthodox practice, excessive liberalism, ecumenism, admiration for Western theology. However, Alexander Men played an important role in the Orthodox Church, he had many adherents (believers, priests, and researchers) and he is still mentioned in articles and conferences.
References
Antiminsov, S. (1993). O bogoslovii protoiereya Aleksandra Menya. Moscow: Pravilo very. Retrieved from http://krotov.info/library/13_m/myen/de_antimins.html (Accessed 10.04.19) (In Russian)
Bychkov, S. S. (1996). Khronika neraskrytogo ubiystva. Moscow. Retrieved from https://imwerden.de/pdf/bychkov_khronika_neraskrytogo_ubijstva_1996_text.pdf (Accessed 12.06.2018). (In Russian)
Chistyakov, G. (2000). On truditsya sredi nas. Russkaya mysl. Retrieved from http://www.alexandrmen.com/pan.html (Accessed 17.08.19) (In Russian)
Kuraev, A. (2003). Vyzov ekumenizma. Moscow: Izdatelskiy Sovet Russkoy Pravoslavnoy Tserkvi, 384 p. (In Russian)
Men, A. (2014). An inner step toward God. Writings and teachings on prayer by Father Alexander Men. Brewster, Ma: Paraclete Press, 192 p.
Men, Aleksander. (1983). Syn Chelovecheskiy. Brussel, 490 p. (In Russian)
Men, Aleksander. (1991). Svet vo tme svetit. Moscow, AO "VITA-TSENTR". (In Russian)
Men, Aleksander. (1996). Magiya. Okkultizm. Khristianstvo Izdatelstvo: Fond im. Aleksandra Menya, 97p. (In Russian).
Men, Aleksander. (2000). Chitaya Apokalipsis. Moscow: Fond imeni Aleksandra Menya. (In Russian)
Nebolsin, A. S. (2010). Metody interpretatsii, eskhatologiya i struktura Otkroveniya Ioanna Bogoslova. Vestnik PSTGU. Seriya I. Issue 3 (31). (In Russian).
Plekon, M. (2017). The World As Sacrament: An Ecumenical Path Toward a Worldly Spirituality. Liturgical Press, Collegeville, MN, 272 p.
Rashkovsky, Eugenii B. (2018). From the Intellectual History of the XXth Century: Archpriest Alexander Men [Iz intellektualno-dukhovnoy istorii KhKh stoletiya: protoierey Aleksandr Men (Zametki na polyakh knigi Uollesa Deniela)]. Voprosy Filosofii, 2: 153-161 (In Russian).
Skorokhodova, T. G. (2011). Vostokovednoe znachenie trudov A.V. Menya: indologicheskie aspekty. In: Vostok. Afro-Aziatskie obshchestva. Istoriya i sovremennost. Retrieved from http://naukarus.com/vostokovednoe-znachenie-trudov-a-v-menya-indologicheskie-aspekty (In Russian).
Vasilenko, L. I. (2000). Posmertnaya travlya ottsa Aleksandra Menya. Vestnik Russkogo Khristianskogo Dvizheniya (Parizh-Nyu-York-Moskva), no180: 259-289. (In Russian)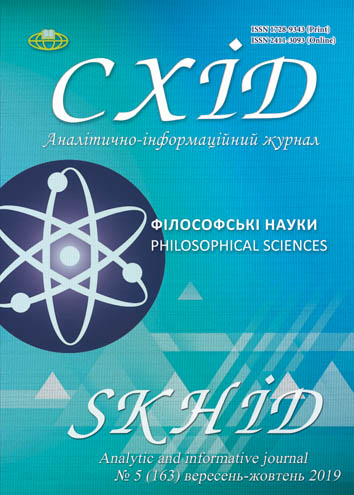 Downloads
How to Cite
Bardyn, M. (2019). Apocalyptic reflections in the studies of the Russian orthodox priest Alexander Men. Skhid, (5(163), 67–71. https://doi.org/10.21847/1728-9343.2019.5(163).180416
Section
Religious studies and theology
License
Copyright (c) 2019 Maria Bardyn
This work is licensed under a Creative Commons Attribution-NonCommercial-NoDerivatives 4.0 International License.
1. Authors bear responsibility for the accuracy of facts, quotations, numbers and names used.
2. Manuscripts are not sent back.
3. The publisher does not always agree with the authors' opinion.
4. The authors reserve the right to authorship of the work and pass the first publication right of this work to the journal under the terms of a Creative Commons Attribution Non-Commercial License, which allows others to freely distribute the published research with the obligatory reference to the authors of the original work and the first publication of the work in this journal.
5. The authors have the right to conclude separate supplement agreements that relate to non-exclusive work distribution in the form in which it has been published by the journal (for example, to upload the work to the online storage of the journal or publish it as part of a monograph), provided that the reference to the first publication of the work in this journal is included.