Historical Role and Significance of Wissenschaft des Judentums
Keywords:
Wissenschaft des Judentums, Judaism, Jewish studies, Haskalah, religious education
Abstract
The article is devoted to the first period of scientific study of Judaism. The article describes social and historical origins of the ideas of necessity of study of Judaism, discloses philosophical basics of creation of Wissenschaft des Judentums methodology in the works of its founders, marks out the impact of Wissenschaft des Judentums activity in 1822-1854.
References
Encyclopedia Judaica / [ed. Fred Skolnik, 22 vol.]. - [2nd edition] // Thomson and Gale, 2006-2007. - Vol. 21. - 697 pp.
Meyer M. A. The Origins of the Modern Jew: Jewish Identity and European Culture in Germany, 1749-1824 / M. A. Meyer. - Detroit : Wayne State University Press, 1967. - 249 pp.
Roemer N. H. Jewish Scholarship and Culture in Nineteenth-Century: Between History and Faith / N. H. Roemer. - Wisconsin, USA : Wisconsin University Press, 2005. - 264 pp. - (Studies in German Jewish Cultural History and Literature).
Rudavsky D. Modern Jewish Religious Movements, A History of Emancipation and Adjustment / D. Rudavsky. - New York : Berhman House, Inc. Publishers, 1967. - 460 pp.
Вольф И. По поводу понятия "наука об иудаизме" / И. Вольф // Евреи в современном мире. История евреев в Новое и Новейшее время : антология документов. - Т. 1 / [сост. П. Мендес-Флор, Й. Рейнхарц]. - Иерусалим-М. : Гешарим / Мосты культуры, 2003. - 576 с.
Ганс Э. Общество по улучшению положения евреев / Э. Ганс // Евреи в современном мире. История евреев в Новое и Новейшее время : антология документов. - Т. 1 / [сост. П. Мендес-Флор, Й. Рейнхарц]. - Иерусалим-М. : Гешарим/Мосты культуры, 2003. - 576 с.
Евреи в современном мире. История евреев в Новое и Новейшее время: антология документов : в 2 тт. / [Сост. П. Мендес-Флор, Й. Рейнхарц]. - Иерусалим-М. : Гешарим/Мосты культуры, 2003. - Т. 1. - 2003. - 576 с.
Картунов О. В. Вступ до етнополітології / О. В. Картунов. - К., 1999. - 300 с.
Краткая еврейская энциклопедия : в 12 тт. / [гл. ред. Ицхак Орен (Надель)]. - Иерусалим, 1976-1995. - Т. 1. - 1976. - 730 с.
Цунц Л. Нечто о раввинистической литературе // Евреи в современном мире. История евреев в Новое и Новейшее время: антология документов. - Т. 1 / [сост. П. Мендес-Флор, Й. Рейнхарц]. - Иерусалим-М. : Гешарим/Мосты культуры, 2003. - 576 с.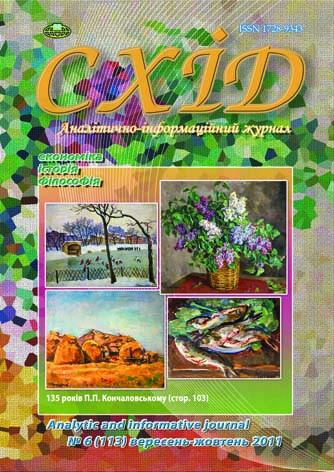 Downloads
How to Cite
Basauri Zuzina, A. M. (2013). Historical Role and Significance of Wissenschaft des Judentums. Skhid, (6(113), 92–96. https://doi.org/10.21847/1728-9343.2011.6(113).17231
License
Copyright (c) 2013 Anna Mariia Basauri Zuzina
This work is licensed under a Creative Commons Attribution-NonCommercial-NoDerivatives 4.0 International License.
1. Authors bear responsibility for the accuracy of facts, quotations, numbers and names used.
2. Manuscripts are not sent back.
3. The publisher does not always agree with the authors' opinion.
4. The authors reserve the right to authorship of the work and pass the first publication right of this work to the journal under the terms of a Creative Commons Attribution Non-Commercial License, which allows others to freely distribute the published research with the obligatory reference to the authors of the original work and the first publication of the work in this journal.
5. The authors have the right to conclude separate supplement agreements that relate to non-exclusive work distribution in the form in which it has been published by the journal (for example, to upload the work to the online storage of the journal or publish it as part of a monograph), provided that the reference to the first publication of the work in this journal is included.