Moral challenges of Ukrainian post-secular society: social and value worth of tolerance
Keywords:
tolerance, respect for other, ressentiment, "morality of a slave and aristocrat", Christian ethics, post-secularity
Abstract
The moral and ethical situation in Ukraine is considered in an issue in the light of analysis of the realities which characterize the modern social, cultural and spiritual reality. Having concluded that the main right of any person is a right to own dignity, an author highlights that the realization of respect for Other is a problem for modern Ukraine which demands an urgent solution. A characteristic of presented in Ukrainian's society systems of "deeds" and "choices" is provided in the issue for determination of the key research arguments. The systems give the essential meanings to "good" and "evil" definitions on the way of highlighting some axiological vectors for imbalance correction that characterize Ukrainian social, cultural and spiritual realities. The methodological coordinate system of an issue refers to the elements of Fr. Nietzsche's work which is used for reality peculiarities' definition, and to the ethical system of Christian guidelines which are noted for ideas' expressiveness under current tradition. An author appeals to Ch. Taylor's studies for a search of crucial ethical ideas, which are able to harmonize the relationships with Others within a country as well as beyond it. Due to the author a way of positive realities transformation (in moral, spiritual, social and civil directions) in Ukraine consists in deliberate wish to overcome the stereotypes of slave morality (when everyone is a "threat" for everybody) and change the system of actions depended on such type of morality. That required the true community work in a direction of national intellectual enrichment, national spiritual development according to the system of educational and cultural initiatives.
References
Amelchenko, N. (2013). Tsinnosti obyednanoyi Yevropy. Kyiv: SO «Laboratoriya zakonodavchykh initsiatyv», 42 p. (In Ukrainian)
Bauman, Z. (2000). Liquid Modernity. Cambridge Polity Press, 232 p. (In English)
Bible (2019). GNTD translation by American Bible Society. Retrieved from http://bibles.org/eng-GNTD/Gen/1 (In English)
Brodetskyy, O. (2016). Etychni tsinnosti v relihiyakh: humanistychna synerhiya idey. Chernivtsi: Chernivtsi National University named after Y. Fedkovych, 336 p. (In Ukrainian)
Bystrytskyy, Ye. (1997). Konflikt kultur i filosofiya tolerantnosti. In: Demony myru ta bohy viyny. Sotsialni konflikty postkomunistychnoyi doby. Kyiv: Politychna dumka, pp. 147-168. (In Ukrainian)
Fisher, J. M. (1997). Responsibility, Control and Omissions. The Journal of Ethics. Vol. 1. No. 1. Pp. 45-64. (In English)
Horban, O., & Martych, R. (2018). Axiological Determinants of the Doctrine of "Living" in Modern Bioethic Discourse. Studia Warmińskie, 55, 93-106. DOI: https://doi.org/10.31648/sw.3064
Levytskyy, V. (2016). Moderna transformatsiya subyekta yak ontolohichna revolyutsiya. Skhid. N 6(146). pp. 105-109. DOI: https://doi.org/10.21847/1728-9343.2016.6(146).91795 (In Ukrainian).
Marko, V. Yu. (2013). Formuvannia khrystyyanskykh tsinnostey ditey molodshoho shkilnoho viku u spivpratsi nedilnoyi shkoly, tserkvy i simyi. Dukhovnist osobystosti: metodolohiya, teoriya i praktyka. №1 (54). pp. 139-148 (In Ukrainian).
Nietzsche, Fr. (2002). Po toy bik dobra i zla. Henealohiya morali [translat. from germ]. Lviv: Litopys, 320 p. (In Ukrainian).
Osoblyvosti relihiynoho i tserkovno-relihiynoho samovyznachennya ukrayinskykh hromadyan: tendentsiyi 2010-2018 rr. Information materials Retrieved from http://razumkov.org.ua/uploads/article/2018_Religiya.pdf (In Ukrainian)
Rohozha, M. M. (2009). Sotsialna moral: koliziyi minimalizmu. Kyiv: PARAPAN Publishing, 216 p. (In Ukrainian)
Sharp, G. (2005). Waging nonviolent struggle: 20th century practice and 21st century potential. Boston: Extending Horizons Books. 560 p. (In English)
Taylor, Ch. (2005). Dzherela sebe. Tvorennya novochasnoyi identychnosti (translat. from Engl.). Kyiv: Dukh i Litera, 696 p. (In Ukrainian)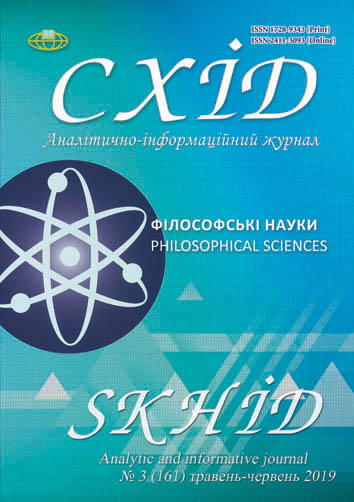 Downloads
How to Cite
Horokholinska, I. (2019). Moral challenges of Ukrainian post-secular society: social and value worth of tolerance. Skhid, (3(161), 78–83. https://doi.org/10.21847/1728-9343.2019.3(161).171818
Section
Religious studies and theology
License
Copyright (c) 2019 Iryna Horokholinska
This work is licensed under a Creative Commons Attribution-NonCommercial-NoDerivatives 4.0 International License.
1. Authors bear responsibility for the accuracy of facts, quotations, numbers and names used.
2. Manuscripts are not sent back.
3. The publisher does not always agree with the authors' opinion.
4. The authors reserve the right to authorship of the work and pass the first publication right of this work to the journal under the terms of a Creative Commons Attribution Non-Commercial License, which allows others to freely distribute the published research with the obligatory reference to the authors of the original work and the first publication of the work in this journal.
5. The authors have the right to conclude separate supplement agreements that relate to non-exclusive work distribution in the form in which it has been published by the journal (for example, to upload the work to the online storage of the journal or publish it as part of a monograph), provided that the reference to the first publication of the work in this journal is included.