Problem nonviolence and human nature
Keywords:
nonviolence, justice, violence, "broken consciousness", ressentiment, love
Abstract
The article discusses the relationship of ethics of non-violence and human nature. Set number of stereotypes, which are maintained in relation to this area of ethics, among them: the futility, the simplicity and uniqueness of the understanding of human nature, as well as the denial not only of violence, but also coercion as such. Proved the fallacy of any stereotypes relating to the ethics of non-violence, and respectively, the possibility of alternative consideration of ethical issues is shown.
References
Агеев М. Роман с кокаином / М. Агеев. - Ростов на Дону : Феникс, 2000. - 256 с.
Бауман З. Текучая современность / З. Бауман. - СПб. : Питер, 2008. - 240 с.
Ганди М. Моя вера в ненасилие / М. Ганди // Вопросы философии. -1992. - № 3. - С. 65-66.
Гусейнов А. А. Этика ненасилия / А. А. Гусейнов // Вопросы философии. - 1992. - № 3 - С. 72-81.
Корнев В. В. Насилие [Електронний ресурс] / В. В. Корнев. - Режим доступу : http://se-bo.at.ua/publ/filosofija/ontologija/kornev_v_v_nasilie/2-1-0-12.
Кузин В. П. Идея ненасилия в религиозно-философских и этических учениях: история и современность / В. П. Кузин // Вісник СевНТУ. - Севастополь : Вид-во СевНТУ, 2010. - Вип. 103: Філософія. - С. 31-39.
Лоренц К. Агрессия (так называемое "зло") / К. Лоренц. - М. : Изд. группа "Прогресс", 1994. - 224 с.
Мамардашвили М. Категория социального бытия и метод его анализа в экзестенциализме Сартра [Електронний ресурс] / М. Мамардашвили. - Режим доступу : http://ru.philosophy.kiev.ua/library/mmk/sartre.html.
Опыт ненасилия в ХХ столетии: социально-этические очерки / [под ред. Р. Г. Апресян]. - М. : Аслан, 1996. - 288 с.
Толстой Л. Н. Закон насилия и закон любви [Електронний ресурс] / Л. Н. Толстой. - Режим доступу : http://az.lib.ru/t/tolstoj_lew_nikolaewich/text_1230.shtml.
Торо Г. Д. О гражданском неповиновении / Г. Д. Торо // Новые пророки. Торо. Толстой. Ганди. Эмерсон. - СПб. : Алетейя, 1998. - С. 79-115.
Человек: Мыслители прошлого и настоящего о его жизни, смерти и бессмертии. Древний мир - эпоха Просвещения / [редкол.: И. Т. Фролов и др. ; сост. П. С. Гуревич]. - М. : Политиздат, 1991. - 422 с.
Шпенглер О. Годы решений / О. Шпенглер. - М. : СКИМЕНЪ, 2006. - 240 с.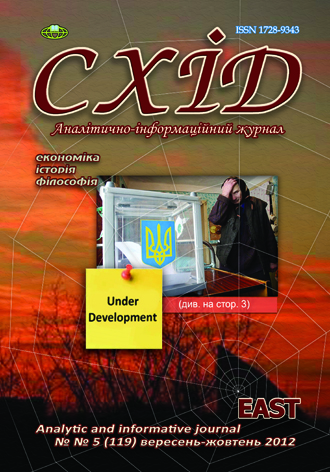 Downloads
How to Cite
Furkalo, V. (2013). Problem nonviolence and human nature. Skhid, (5(119), 146–149. https://doi.org/10.21847/1728-9343.2012.5(119).16634
License
Copyright (c) 2013 Volodymyr Furkalo
This work is licensed under a Creative Commons Attribution-NonCommercial-NoDerivatives 4.0 International License.
1. Authors bear responsibility for the accuracy of facts, quotations, numbers and names used.
2. Manuscripts are not sent back.
3. The publisher does not always agree with the authors' opinion.
4. The authors reserve the right to authorship of the work and pass the first publication right of this work to the journal under the terms of a Creative Commons Attribution Non-Commercial License, which allows others to freely distribute the published research with the obligatory reference to the authors of the original work and the first publication of the work in this journal.
5. The authors have the right to conclude separate supplement agreements that relate to non-exclusive work distribution in the form in which it has been published by the journal (for example, to upload the work to the online storage of the journal or publish it as part of a monograph), provided that the reference to the first publication of the work in this journal is included.