Aspects of perception concept "Ungrund" in philosophical studies M. Berdiaev
Keywords:
Ungrund, the Freedom of Good, the Freedom of Evil, the Freedom of Mega-Absolute, the God-chaos, the God-abuss
Abstract
In this article is speaking about the specific of perception the concept "Ungrund" in philosophical studies of М.О.Berdiaev. There is also a comparison of J.Beme's teo-of-centre concept doing on about concept of God's and Freedom's unfoundation. In this article it is analyzed new understanding of concepts of Evil and Good that had composed in N.Berdiaev's philosophy of Freedom. It is ascertained that differentiation of unfoundation Freedom that is main impulse for understanding the whole positiveness of Freedom.
References
Бёме Я. Аврора, или Утренняя зоря в восхождении / Я. Бёме. - СПб. : Азбука, 2000. - С. 245.
Указ. праця. - С. 246.
Указ. праця. - С. 11-12.
Бердяев Н. А. Царство Духа и царство Кесаря // Дух и реальность / Н. А. Бердяев. - М. : АСТ, Харьков : Фолио, 2006. - С. 585.
Бердяев Н. А. Опыт эсхатологической метафизики : Творчество и объективация // Дух и реальность / Н. А. Бердяев. - М. : АСТ, Харьков : Фолио, 2006. - С. 461.
Там само.
Бердяев Н. А. Смысл творчества : Опыт оправдания человека / Н. А. Бердяев. - М. : ООО "Издательство АСТ" ; Харьков: "Фолио", 2004. - С. 279.
Бердяев Н. А. Самопознание / Н. А. Бердяев. - М. : Книга, 1991. - С. 101.
Там само.
Бердяев Н. А. Философия свободного духа / Н. А. Бердяев. - М. : Республика, 1994. - С. 113.
Бердяев Н. А. Истина и откровение / Н. А. Бердяев. - СПб. : Изд-во Русского Христианского гуманитарного института, 1996. - С. 68.
Бердяев Н. А. Опыт эсхатологической метафизики : Творчество и объективация // Дух и реальность / Н. А. Бердяев. - М. : АСТ, Харьков : Фолио, 2006. - С. 461.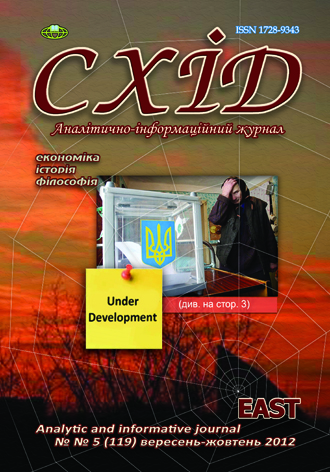 Downloads
How to Cite
Savonova, A. (2013). Aspects of perception concept "Ungrund" in philosophical studies M. Berdiaev. Skhid, (5(119), 134–137. https://doi.org/10.21847/1728-9343.2012.5(119).16630
License
Copyright (c) 2013 Anna Savonova
This work is licensed under a Creative Commons Attribution-NonCommercial-NoDerivatives 4.0 International License.
1. Authors bear responsibility for the accuracy of facts, quotations, numbers and names used.
2. Manuscripts are not sent back.
3. The publisher does not always agree with the authors' opinion.
4. The authors reserve the right to authorship of the work and pass the first publication right of this work to the journal under the terms of a Creative Commons Attribution Non-Commercial License, which allows others to freely distribute the published research with the obligatory reference to the authors of the original work and the first publication of the work in this journal.
5. The authors have the right to conclude separate supplement agreements that relate to non-exclusive work distribution in the form in which it has been published by the journal (for example, to upload the work to the online storage of the journal or publish it as part of a monograph), provided that the reference to the first publication of the work in this journal is included.