Underdevelopment
Keywords:
state, development, underdevelopment, social conflict
Abstract
This article explores the link between underdevelopment and conflict. It explains particular features of the state weakness in Ukraine.
References
Definition of decadence [Електронний ресурс]. - Режим доступу : http://www.brainyquote.com/words/de/decadence 151510.html.
Коукер К. Сумерки Запада : [монография] / К. Коукер. - М. : Московская школа политических исследований, 2000. - 272 с.
Fragile and conflict affected countries [Електронний ресурс] / World Bank. - Режим доступу : http://web.worldbank.org/WBSITE/EXTERNAL/PROJECTS/STRATEGIES/EXTLICUS/0,,menu PK :511784 ~pagePK:64171540~piPK:64171528~theSitePK: 511778,00.html.
Why we need to work more effectively in fragile states / [Published by the Department for International Development]. - United Kingdom, January 2005. - 145 p.
Rotberg R. I. When states fail: causes and consequences / R. I. Rotberg. - Princeton : Princeton university press, 2004. - 214 p.
Collier P. The bottom billion : why the poorest countries are failing and what can be done about it / P. Collier. - Oxford : Oxford University Press, 2007. - 224 p.
Buzan B. Security : a new framework for analysis / B. Buzan. - New York : Lynne Reinner Pub, 1997. - 239 p.
Olson Mancur. The rise and decline of nations: economic growth, stagflation, and social rigidities / Mancur Olson. - Yale University Press, 1982.
Тузяк Н. Вроджена нерівність по-українські [Електронний ресурс] / Н. Тузяк, Л. Шангіна. - Режим доступу : http://www.lvivpost.net/content/view/13732/490.
Соціологічні опитування: права людини [Електронний ресурс]. - Режим доступу : www.razumkov.org.ua/ukr/poll. php?poll_id=611.
Олейник А. Н. Кто следующий? Предсказания кризисов / А. Н. Олейник, Т. А. Маляренко [Електронний ресурс] // Украинская правда. - Режим доступу : http://www.pravda.com. ua/rus/articles/2011/06/29/6340946/view_print/.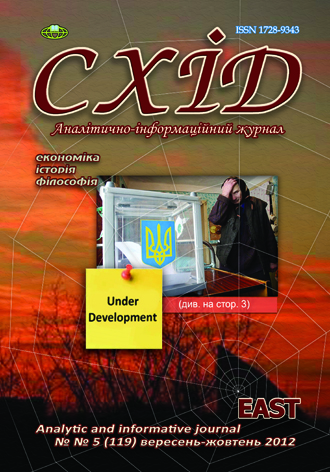 Downloads
How to Cite
Malyarenko, T. (2013). Underdevelopment. Skhid, (5(119), 3–6. https://doi.org/10.21847/1728-9343.2012.5(119).16586
License
Copyright (c) 2013 Tetiana Malyarenko
This work is licensed under a Creative Commons Attribution-NonCommercial-NoDerivatives 4.0 International License.
1. Authors bear responsibility for the accuracy of facts, quotations, numbers and names used.
2. Manuscripts are not sent back.
3. The publisher does not always agree with the authors' opinion.
4. The authors reserve the right to authorship of the work and pass the first publication right of this work to the journal under the terms of a Creative Commons Attribution Non-Commercial License, which allows others to freely distribute the published research with the obligatory reference to the authors of the original work and the first publication of the work in this journal.
5. The authors have the right to conclude separate supplement agreements that relate to non-exclusive work distribution in the form in which it has been published by the journal (for example, to upload the work to the online storage of the journal or publish it as part of a monograph), provided that the reference to the first publication of the work in this journal is included.