Digital broadcasting in Nigeria by the eyes of its users: history of development and current state
Keywords:
adaptation, electronic mass media, broadcasting, digitization, journalists
Abstract
The article reproduces some aspects of history of implementation of digital broadcasting in Nigeria, also it contains the evaluation of its current state. The theoretical and methodological base of its conduction was the "diffusional" theory of innovations, which allowed determining the true situation of readiness of Nigeria for digitalization of national mass media. As part of this research the interviewing (the survey) of 184 digital broadcasting journalists from 150 media companies of three Nigerian provinces (Enugu, Ebonyi and Anambra) was conducted. Its results indicates that main obstacles to the development of digital broadcasting in Nigeria are limited funding, unsatisfactory state of mass media digitalization, lack of qualified specialists and required equipment and lack of political will. Relating to this, there is every reason to affirm that modern level of digitalization of broadcasting in Nigeria is quite low and does not correspond to the development requirements of country at the current stage. At the same time, the results allow to claim that the great majority of respondents has a high level of personal awareness of digital broadcasting. Most of them revealed their readiness to become the first users of the digital broadcasting after its full implementation in country. Before that time, Nigeria has made insignificant progress in the digital broadcasting area, its further development requires the solution of complicated tasks connected with digitalization of the television media by the government of Nigeria. The Nigerian government should solve the issues of funding for ensuring the development of digital broadcasting in Nigeria, as well as propose the strategy of its implementation, provide the education of stuff and find an opportunity to install modern technical equipment. The expanding of the area and geography of the further researches on this subject with the aim of coverage of all country's provinces for better understanding of the problem.
References
Aihe, O. (2008, June 11). HDTV: Nigeria begins digital broadcast journey. Vanguard. Retrieved from: http.//www.odilinet.com/news/source/june/11/315.html (Accessed on 28.07.18).
APC - Association for Progressive Communications (APC) and Balancing Act (2011). Retrieved from: https://www.apc.org/en/system/files/apcpublicationdigitalmigrationnigeriaen_v2.pdf (Accessed on 11.07.18).
Berger, G. (2010). Challenges and Perspectives of Digital Migration for African Media. Dakar: Panos Institute of West Africa. Retrieved from http://guyberger.ru.ac.za/fulltext//Digitalmigration.pdf (Accessed on 12.11.18).
Defleur, M. & Dennis, E. (1991). Understanding mass communication. Boston: Houghton Mifflin Company.
Eze, O., Orekyeh, E., & Ezeanwu, R. (2017). An Assessment of TV Consumers' Awareness of Digital Migration Process in Enugu Metropolis. New Media and Mass Communication, 61, 1-10.
Limmer, C. (2017, November 16). Addressing Africa's Challenges in Digital Switch Over. ThisDay. Retrieved from: https://www.thisdaylive.com/index.php/2017/11/16/addressing-africas-challenges-in-digital-switch-over/.
Mbatha, B. & Lesame, Z. (2014). South Africa Goes Digital: Possible Obstacles to the Adoption of Digital Television. Mediterranean Journal of Social Sciences. 5 (1), 89-95.
Njogu, W. (2016). Influence of digital migration project on citizens' access to information on television In Kenya – The case of Machakos Town Constituency, Machakos County, Kenya (Masters dissertation, University of Nairobi).
Nyekwere, O. (2009). Influence of new media technologies in broadcasting: a study of television stations in port-Harcourt metropolis (Masters thesis). University of Nigeria, Nsukka.
Obisi, S. & Rem, C. (2016). Impact of human capital development on digitisation process in the media industry, International Journal of Scientific Research in Education. 9(4), 227-237.
Obot, C. & Inwang, I. (2017). Awareness of and preparedness for digital broadcasting among communication practitioners and educators in Uyo. Athens Journal of Mass Media and Communications, 107-130.
Ocholi, D. (2009, August 16). A new dawn in the broadcast industry. Newswatch.
Okonji, E. (2015). Grappling with Challenge of Digital Migration. ThisDay Newspaper. Retrieved from: http://allafrica.com/stories/201506250514.html.
Olalere, A. Q., Oyeyinka, O. T., Lateef, O., Olakunle, O. R., Kenneth, T. A., Rauf, G., ... & Nancy, N. O. (2013). The challenges of digitization on the broadcasting media IN Nigeria. Arabian Journal of Business and Management Review (Oman Chapter). 3(5), 88.
Plum, (2014). Benefits of digital broadcasting. Retrieved from: https://www.gsma.com/spectrum/wp-content/uploads/2014/02/Benefits-of-Digital-Broadcasting.-Plum-Consulting.-Jan-2014.pdf.
Rogers, E. M. (1995). Diffusion of innovations, (4thed). New York, Free Press.
Suárez-Candel, R. (2007). The migration towards digital terrestrial television: challenges for public policy and public broadcasters. Observatorio Journal. 1, 185-203.
Thiebaud, J. (2010). Effects of technology on people: living F2F conversation and social interaction. Proceedings of the Media Ecology Association.
Zewail, A. (2002). Science and Technology in the Twenty-First Century. Retrieved from: http://www.zewail.caltech.edu/XXIcentury.pdf.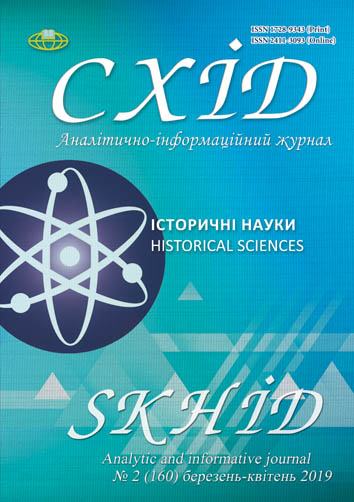 Downloads
How to Cite
Onyiaji, J., & Okwumba Eucharia, O. (2019). Digital broadcasting in Nigeria by the eyes of its users: history of development and current state. Skhid, (2(160), 75–81. https://doi.org/10.21847/1728-9343.2019.2(160).165726
License
Copyright (c) 2019 Judith Onyiaji, Ogechi Okwumba Eucharia
This work is licensed under a Creative Commons Attribution-NonCommercial-NoDerivatives 4.0 International License.
1. Authors bear responsibility for the accuracy of facts, quotations, numbers and names used.
2. Manuscripts are not sent back.
3. The publisher does not always agree with the authors' opinion.
4. The authors reserve the right to authorship of the work and pass the first publication right of this work to the journal under the terms of a Creative Commons Attribution Non-Commercial License, which allows others to freely distribute the published research with the obligatory reference to the authors of the original work and the first publication of the work in this journal.
5. The authors have the right to conclude separate supplement agreements that relate to non-exclusive work distribution in the form in which it has been published by the journal (for example, to upload the work to the online storage of the journal or publish it as part of a monograph), provided that the reference to the first publication of the work in this journal is included.