Assessments corporate securities
Keywords:
corporate securities, the value of securities, market value, fair value, financial risks, profitability, cost of capital, the stock market
Abstract
The present work studies the peculiarities of corporate securities assessment and defines the best technique of calculation of eminent cost in respect to the peculiarities of corporate securities circulation at the domestic securities market. Besides, some recommendations for improving the corporate securities assessment are suggested.
References
Бондар М. І. Інвестиційна діяльність: методика та орга¬нізація обліку і контролю : [монографія] / М. І. Бондар. К. : КНЕУ, 2008. - 256 с.
Про затвердження Національного стандарту № 1 "Загальні засади оцінки майна і майнових прав" Кабінет Міністрів України ; Постанова, Стандарт від 10.09.2003 № 1440 [Електронний ресурс]. - Режим доступу : http://zakon2.rada.gov.ua/laws/show/1440-2003-п.
Про затвердження Положення про порядок формування та використання банками України резервів для відшкодування можливих втрат за активними банківськими операціями. Національний банк; Постанова, Перелік, Положення від 25.01.2012 № 23 [Електронний ресурс]. - Режим доступу : http://zakon1.rada.gov.ua/laws/show/z0231-12.
Про затвердження Положення (стандарту) бухгалтерського обліку 24 "Прибуток на акцію" Мінфін України; Наказ, Положення від 16.07.2001 № 344 (редакція від 10.01.2012) [Електронний ресурс]. - Режим доступу : http://zakon2. rada.gov.ua/laws/show/z0647-01.
Астапова Г. В. Корпоративное управление и корпоративные финансы в условиях трансформационной экономики : [монография] / Г. В. Астапова. - Донецк : Издательство Сталкер, 2004. - 183 с.
Брейли Р. Принципы корпоративных финансов / Р. Брейли, С. Майерс. - [2-е русс. изд. (пер. с 7-го междунар. изд.)]. - М. : Олимп-Бизнес, 2008. - 1008 с.
Коробков Д. В. Мультиплікатори оцінки акцій, які враховують рентабельність структури капіталу і ризик компанії / Д. В. Коробков // Фінанси України. - 2011. - № 1. - С. 94-101.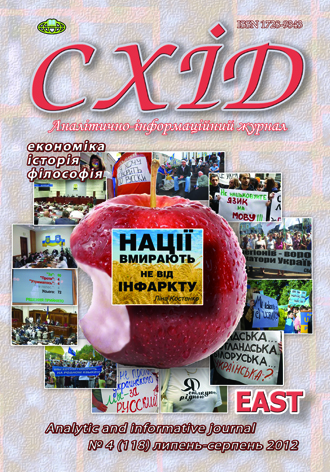 Downloads
How to Cite
Nikitin, M. (2013). Assessments corporate securities. Skhid, (4(118), 56–59. https://doi.org/10.21847/1728-9343.2012.4(118).16524
License
Copyright (c) 2013 Mykhailo Nikitin
This work is licensed under a Creative Commons Attribution-NonCommercial-NoDerivatives 4.0 International License.
1. Authors bear responsibility for the accuracy of facts, quotations, numbers and names used.
2. Manuscripts are not sent back.
3. The publisher does not always agree with the authors' opinion.
4. The authors reserve the right to authorship of the work and pass the first publication right of this work to the journal under the terms of a Creative Commons Attribution Non-Commercial License, which allows others to freely distribute the published research with the obligatory reference to the authors of the original work and the first publication of the work in this journal.
5. The authors have the right to conclude separate supplement agreements that relate to non-exclusive work distribution in the form in which it has been published by the journal (for example, to upload the work to the online storage of the journal or publish it as part of a monograph), provided that the reference to the first publication of the work in this journal is included.