Regulatory framework of corporate control in Ukraine
Keywords:
корпорація, корпоративний контроль, система корпоративного контролю, нормативно-правове забезпечення
Abstract
Non-correspondence of current system of corporate control to modern corporate relation system's demand determines the study of its performing law and normative aspects. Current legislative background for corporate control system formation and means for smallholders' rights and interests protection in Ukraine are suggested. In particular, factors of minority stakeholders' rights brake by corporate management and major stakeholders are analysed, corporate control types are systemized by national corporate legislation. By the study of international experience on corporate control formation it is found that the efficiency of implementation and defence means for smallholders tightly depends on legislative warranties for their rights. Corporative legislation and court practice of corporative conflicts under European and American Corporate Model, under which all of the participants have the legislative liability, has particular interest for Ukraine. The nature of a stakeholder's interest implementation by implementation of his legal rights and interests as organization and legislative components is analyzed. It is determined that legislative element of stakeholder's rights' warranty is implemented inextricably to internal means for owner's rights. The notion of "stakeholder's rights warranty" is defined as a complex of legislative and organizational tools for implementation of owner's property and non-property rights, protection of broken rights. Principles for corporative control market formation in Ukraine and means for such subsystem of corporate relations are suggested. It is also suggested to introduce a responsibility for certain officers' actions leading to witting stakeholder's rights brake by The Civil Codex.
References
Відомості про фондовий ринок України [Електронний ресурс]: сайт Національної комісії з цінних паперів та фондового ринку. Режим доступу : www.ssmsc.gov.ua.
Шершньова З. Є. Забезпечення належного рівня корпоративного контролю в корпораціях / З. Є. Шершньова, А. Є. Черпак // Ринок цінних паперів України. - 2005. - № 9-10. - С. 13-21.
Черпак А. Є. Суб'єкти та об'єкти корпоративного контролю в умовах трансформації економіки / А. Є. Черпак // Ринок цінних паперів України. - 2004. - № 1. - С. 29-39.
Педько А. Б. Власність, контроль і конфлікт інтересів в акціонерних товариствах / А. Б. Педько. - К. : Вид. дім "Києво-Могилянська академія", 2008. - 325 с.
Назарова Г. В. Структура власності в моделях корпоративного контролю в промисловості / Г. В. Назарова // Фінанси України. - 2003. - № 9. - С. 62-70.
Про акціонерні товариства: Закон України № 514-VI від 17 вересня 2008 р. / Верховна Рада України // Офіційний вісник України. - 2008. - № 81. - С. 7-49.
Про цінні папери та фондовий ринок: Закон України № 3480-IV від 23 лютого 2006 р. // Відомості Верховної Ради України. - 2006. - № 31.
Рекомендації з найкращої практики корпоративного управління для акціонерних товариств України від 02 червня 2002 р. № 190 // Бюлетень Цінні папери України. - 2002. - № 3.
Кужелєв М. О. Теоретичні і методологічні аспекти формування корпоративного контролю в Україні / М. О. Кужелєв // Збірник наукових праць ДонДУУ: "Проблеми розвитку економіки України в умовах міжнородної інтеграції". - Серія "Економіка". - Т. ІХ. - Вип. 13. - Донецьк, 2008. - С. 294-305.
Кужелев М. А. Экономическое содержание корпоративного контроля / М. А. Кужелев, А. С. Лебеда // Фінансовий і банківський менеджмент: досвід та проблеми. Тези допо¬відей і виступів Х міжнародної наукової конференції. - Донецьк : ТОВ "Юго-Восток, Лтд", 2008. - С. 52-54.
Кужелєв М.О. Концептуальні основи розвитку корпоративних відносин : [монографія] / М.О. Кужелєв. - Донецьк : ТОВ "Східний видавничий дім", 2012. - 260 с.
National Securities And Stock Market Commission: Vidomosti pro fondovyi rynok Ukrainy, available at: www.ssmsc.gov.ua.
Shershniova Z. Ye. & Cherpak A. Ye. (2005), Zabezpechennia nalezhnoho rivnia korporatyvnoho kontroliu v korporatsiiakh, Rynok tsinnykh paperiv Ukrainy, № 9-10, pp. 13-21 (ukr).
Cherpak A.Ye. (2004), Subiekty ta obiekty korporatyvnoho kontroliu v umovakh transformatsii ekonomiky, Rynok tsinnykh paperiv Ukrainy, № 1, pp. 29-39 (ukr).
Pedko A. B. (2008), Vlasnist, kontrol i konflikt interesiv v aktsionernykh tovarystvakh, Publishing house of «Kyievo-Mohylianska akademiia», Kyiv, 325 p. (ukr).
Nazarova H. V. (2003), Struktura vlasnosti v modeliakh korporatyvnoho kontroliu v promyslovosti, Finansy Ukrainy, № 9, pp. 62-70 (ukr).
Pro aktsionerni tovarystva: Zakon Ukrainy № 514-VI vid 17 veresnia 2008 r. (2008), Verkhovna Rada Ukrainy, Ofitsiinyi visnyk Ukrainy, № 81, рр. 7-49 (ukr).
Pro tsinni papery ta fondovyi rynok: Zakon Ukrainy № 3480-IV vid 23 liutoho 2006 r. (2006), Vidomosti Verkhovnoi Rady Ukrainy, № 31 (ukr).
Rekomendatsii z naikrashchoi praktyky korporatyvnoho upravlinnia dlia aktsionernykh tovarystv Ukrainy vid 02 chervnia 2002 r. (2002), № 190, Biuleten Tsinni papery Ukrainy, № 3 (ukr).
Kuzheliev M. O. (2008), Teoretychni i metodolohichni aspekty formuvannia korporatyvnoho kontroliu v Ukraini, Zbirnyk naukovykh prats DonDUU: «Problemy rozvytku ekonomiky Ukrainy v umovakh mizhnorodnoi intehratsii», №13, Donetsk, pp. 294-305 (ukr).
Kuzhelev M. A. & Lebeda A. S. (2008), Ekonomycheskoe soderzhanye korporatyvnoho kontrolia, Finansovyi i bankivskyi menedzhment: dosvid ta problemy. Tezy dopovidei i vystupiv Х mizhnarodnoi naukovoi konferentsii, TOV «Yuho-Vostok, Ltd», Donetsk, pp. 52-54 (ukr, rus).
Kuzheliev M. O. (2012), Kontseptualni osnovy rozvytku korporatyvnykh vidnosyn, ТOV «Skhidnyi vydavnychyi dim», Donetsk, 260 p. (ukr).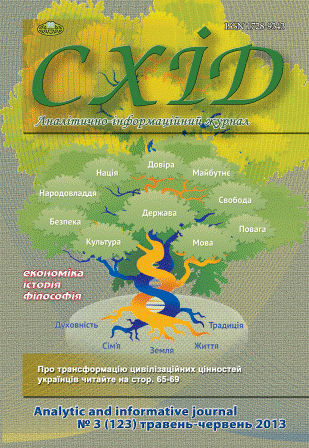 Downloads
How to Cite
Kuzheliev, M. (2013). Regulatory framework of corporate control in Ukraine. Skhid, (3(123), 29–33. https://doi.org/10.21847/1728-9343.2013.3(123).15061
License
Copyright (c) 2013 Mykhailo Kuzheliev
This work is licensed under a Creative Commons Attribution-NonCommercial-NoDerivatives 4.0 International License.
1. Authors bear responsibility for the accuracy of facts, quotations, numbers and names used.
2. Manuscripts are not sent back.
3. The publisher does not always agree with the authors' opinion.
4. The authors reserve the right to authorship of the work and pass the first publication right of this work to the journal under the terms of a Creative Commons Attribution Non-Commercial License, which allows others to freely distribute the published research with the obligatory reference to the authors of the original work and the first publication of the work in this journal.
5. The authors have the right to conclude separate supplement agreements that relate to non-exclusive work distribution in the form in which it has been published by the journal (for example, to upload the work to the online storage of the journal or publish it as part of a monograph), provided that the reference to the first publication of the work in this journal is included.