Transformations of the new media of the Christian confesions in Ukraine
Keywords:
new media, Christian confessions, religious activity, mediatization
Abstract
The author investigates the changes of the new media in Ukrainian churches. It has been proved that the Internet environment has triggered the activities of various electronic confessional media, making them new means of bringing the mission of the Church into Ukrainian society. The official websites of the denominations, social networks and others are analyzed for the purpose of the emerging features of the new media by E. Toffler, such as interactivity, mobility, reciprocity and the possibility of interconnection. It is concluded that the Christian new media, such as social networks' groups, forums, sites, blogs, etc. are organically combining the media and denomination's functions, also transform the external and internal communication in the church environment. Relatively low cost and insignificant efforts have inspired many Christians and churches to spread their message to an expanding audience. People of all age and social categories join religious beliefs and practices through watching online broadcasts of church worship, theological conferences, seminars, participation in thematic forums on Christian resources. Social behavior in virtual Christian communities and environments is a new phenomenon that allows researchers to observe, document, and analyze how church and non-church people adapt and accept patterns of behavior in response to various conditions that are received in a particular social group that depends on its existence through technology linked to a computer or smartphone. The phenomenon of virtualization and consumerism of religion are associated with the new media. Mediation of the Christian denominations of Ukraine through the prism of the Internet environment is due to the global change of a person, and thus the Church, which seeks a dialogue with a community of people through the means of the new media.
References
# FATHER-ONLINE Your personal expert. Available at: http: //www.atchenash.ukr/fish/index.html.
Address of His Beatitude Metropolitan Volodymyr of Kyiv and All Ukraine to the participants of the VII International Orthodox Cinema and Media Festival "Pokrov". 2011. Volodymyr (Sabodan). Reports, speeches, appeals. K.: Publishing Department of the UOC, 422 p. (ukr).
As Luther became a virus. Available at: https://medium.com/@misanthropic.
Bachinin, V., Cherenkov, M. 2015. Protestant ethics and the spirit of ostmodernism. K.: Knigonosha, 376 p. (rus).
Christian message in computer culture. 2004. Church and Social Communication: The most important documents of the Catholic Church about the press, radio, television, the Internet and other media. Orderly and Sciences. Ed. M. Perun. L.: View of the Ukrainian Catholic University, 440 pp. (ukr).
Christian youth and social networks. Available at: http://stepstohope.in.ua/hrystyianska-molod-i-sotsmerezhi/.
Church and Media: 7 Steps to Understanding. 2012. Babinska, S., Zavadska, Yu., Karapinka, M., Kuligina, O. Ezra, 240 р. (ukr).
Dawson, 2005: The mediation of religious experience in cyberspace. Religion and Cyberspace. Edited by Morten Hojsgaard, Margit Warburg. New York: Taylor & Francis, 2005.р.15-37.
Dyatlik, T 2018. Methodology of the research of the conflation in the Epistle to Galatians. Skhid, no. 3(155), pp. 74-77. DOI: http://skhid.kubg.edu.ua/article/view/139835/139131.
Forum InVictory. Terms of use. Available at: http://www.invictory.com/terms.html#communication.
Gordeyev, A. 2015. Church on the Maidan. K.: Knigonosha, 304 p. (rus).
Hojsgaard, M. (Ed.), Warburg, M. (Ed.). (2005). Religion and Cyberspace. London: Routledge. 207 р. DOI: https://doi.org/10.4324/9780203003572.
In Ukraine, the number of smartphone users has increased fivefold. Available at: https://glavcom.ua/country/society/v-ukrajini-kilkist-koristuvachiv-smartfoniv-zrosla-u-pyya-raziv-ekspert-480621.html.
Internet audience statistics of Ukraine. Available at: https://seoukraine.com.ua/statistics-internet-auditorii-ukrainy-i-ispolzuemyh-ustroystv/.
Kozyryatska A, 2017. Network Christian editions of the Ukrainian media space: monograph. Zaporozhye: Prosvita, 192 p. (ukr).
Kuligina, O. Is there a place for yoga in the Catholic church. Available at: http://tvoemisto.tv/blogs/chy_ie_mistse_dlya_yogy_v_katolytskomu_hrami_94864.html.
Kuraev, A. Orthodoxy: Growth points. M.: Nikeya, 2011. 208 p. (rus).
Lövheim, M., Linderman, A. G. 2005. Constructing religious identity on the Internet. Edited by Morten Hojsgaard, Margit Warburg. New York: Taylor & Francis, р.121-137.
Matison, D. 2017.Media Discourse. Analysis of media texts. from english Kh.: Publishing House, Humanitarian Center, 264 p. (ukr).
Neuman, R. 2010. Media, Technology, and Society. Theories of Media Evolution. Digital Culture Books, University of Michigan Press: University of Michigan Library.
Neuman, R. 2016. The Digital Difference. Evolving Media Technology and the Theory of Communication Effects. Harvard University Press. DOI: https://doi.org/10.4159/9780674969858.
O'Leary, S. D. 1996. Cyberspace as Sacred Space. Communicating Religion on Computer Networks, Journal of the American Academy of Religion. 64 (4), pp. 781-808.
O'Leary, S. D. 2010. Utopian and dystopian possibilities of networked religion in the new millennium. Digital Culture Books, University of Michigan Press: University of Michigan Library, Р.44.
Priests in social networks. Available at: http://old.dyvensvit.org/articles/2191.html.
Religion is coming: The question of faith in secular cinematography. Available at: http://rellab.org.ua/24-02-religion-coming.
Report on the Network of Churches and Religious Organizations in Ukraine as of 01.01.2018. URL: https://risu.org.ua/en/index/resourses/statistics/ukr_2018/70440/.
SMM for parishioners: The Ukrainian priest mastered Instagram. Available at: https://nachasi.com/2018/03/03/smm-dlya-parafiyan/.
Space for preaching. 2013. Catholic Bulletin. №20 pp. 40-41.
The Epistle of Pope Francis on the 48th World Public Communications Day. Available at: http://credo.pro/2014/02/110721.
Toffler, E. 2003. Metamorphoses of power: from english. M .: OOO Publishing house ACT, 669 p. (rus).
Tweets with God. Available at: https://svichado.com/vydannya_dlya_molodi_i_ditey/tvity_z_bohom.html.
Ukrainian generation Z: values and benchmarks. 2017. Results of a nationwide poll. K.: Center New Europe, 135 p. (ukr).
Zrazhevska, N. I. 2013. New media and new forms of communication in media culture. Current issues of mass communication. Issue 14. P. 70-75. Avaialble at: http://er.ucu.edu.ua/bitstream/handle/1/1015/apmk_2013_14_16.pdf?sequence=1&isAllowed=y.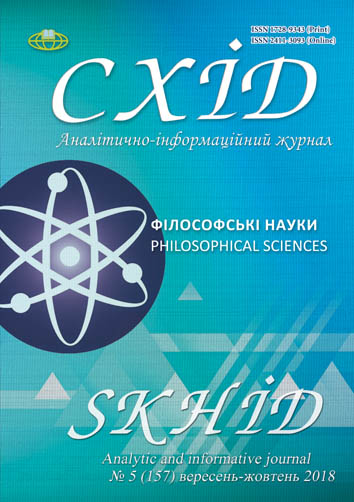 Downloads
How to Cite
Fylypchuk, S. (2018). Transformations of the new media of the Christian confesions in Ukraine. Skhid, (5(157), 92–98. https://doi.org/10.21847/1728-9343.2018.5(157).149031
Section
Religious studies and theology
License
Copyright (c) 2018 Svitlana Fylypchuk
This work is licensed under a Creative Commons Attribution-NonCommercial-NoDerivatives 4.0 International License.
1. Authors bear responsibility for the accuracy of facts, quotations, numbers and names used.
2. Manuscripts are not sent back.
3. The publisher does not always agree with the authors' opinion.
4. The authors reserve the right to authorship of the work and pass the first publication right of this work to the journal under the terms of a Creative Commons Attribution Non-Commercial License, which allows others to freely distribute the published research with the obligatory reference to the authors of the original work and the first publication of the work in this journal.
5. The authors have the right to conclude separate supplement agreements that relate to non-exclusive work distribution in the form in which it has been published by the journal (for example, to upload the work to the online storage of the journal or publish it as part of a monograph), provided that the reference to the first publication of the work in this journal is included.