Male consumption demands in the urban space of Soviet Ukraine in 1920-1930s
Keywords:
man, consumption, everyday life, city, Soviet Ukraine, 1920-1930s
Abstract
The basic features and problems of male consumption in 1920-1930s are considered. The main aim of research is to analyze the material world and everyday life of the male consumer and his demands mainly in the urban space of Soviet Ukraine. The crucial role of Communist ideology and propaganda in the emergence of male consumer culture is discussed. It has been also paid attention on the great role of Soviet planned economic system that influenced on the material needs of ordinary consumers. Thus, it has been emphasized that the image of male consumer was not homogenous. Such features as social status, professional surroundings, accessibility to the distribution sources constructed its mosaics. Due to these reasons, it is not possible to construct the general image of male consumer, but only to characterize its various types, which belonged to different representatives of male population such as workers, Communist party's members, traders (nepmen), "red directors", or intellectuals. It has been examined that biography of male's things, their longevity was not the same as in comparison with female's ones, because of the less developed practices of suing and remaking clothes among the men. As consumers, they were not also broadly presented in various fashion magazines. It could be explained by the existing consumer policy towards them that excluded man from the fashion discourse. That's why as a result the male consumption could be presented as "forgotten" area of Soviet official discourse. Communist authorities were building new "byt" and had forgotten to satisfy everyday needs of the builders. Notwithstanding, the problems with shortages of goods and clothes forced men to create the new everyday practices, which included the usage of women's sewing services. Therefore, the practices of individual sewing of clothes were not developed among the men. Nevertheless, they took part in the modernization process of Soviet society and consequently accepted new industrial goods into their everyday consumer practices. The investigation of male consumer goods led to the conclusion that their biography, durability differed from female material world.
References
Bulgakov, M. (2004), Dog's heart. Folio, Kharkov, AST, Moscow, 324 p. (ru).
Gurova, O. Ju. (2005), Ideology of consumption in Soviet society, Sociological journal, 4, 117-131 (ru).
Gurova, O. (2004), Life time of things in Soviet society: notes about the sociology of underwear, Neprikosnovennyj zapas, 2(34), 78-84. Available at: http://magazines.russ.ru/nz/2004/34/gurov9-pr.html#_ftnref2( ru).
Ilf, I., Petrov, E. (2016), Collected works, Family leisure club, Kharkov, Belgorod, 418 pp. (ru).
Imported costumes and men's trousers (1937), Kharkiv's worker, January 19. (ru).
Lebina, N. (2015), Soviet everyday life: norms and anomalies. From the military communism to the great style, Novoe literaturnoe obozrenie, Moscow, 488 pp. (ru).
Mikoian, Anastas (1999), So it was. Vagrius, Moscow, 636 p. (rus).
Muzhskaja kosovorotka (1925), Worker's family, 5, 151 (ru).
Men's understanding of fashion (1928), Art of dressing, 11, 14 (ru).
Non-haberdashery communication with consumer (1936), Light industry, September 14 (ru.).
Don't waste time for waiting in hairdressing salon, use safety razor (1937), Kharkiv's worker, May 11.(ru).
Sell dress (1922), Proletarian, October 11 (ru).
Bright spring costume (1935), Communist, March 18. (ukr.).
Old theory - consumer will buy everything (1935), Communist, March 11. (ukr.).
Oushakin, Serguei (2013), Dinamizing thing, Novoe literaturnoe obozrenie, 2(120), 29-34. (ru).
Forms of industrial uniform (1928), Art of dressing, 9, 13. (ru).
Forms of industrial uniform (1928), Art of dressing, 10, 12. (ru).
Forms of protective uniform (1928), Art of dressing, 11, 15. (ru).
The higher mark, the better they sew (1934), Light industry, July 16. (ru).
Sewing factories forget about consumer (1937), Kharkiv's worker, February 28. (ru).
State Archive of Kharkiv Region, fond 1369, opys 1, sprava 6, 22 p. (ukr.).
Appadurai, A. [Ed.] (1996), Introduction: Commodities and the politics of valueThe Social Life of things. Commodities in Cultural Perspective.CambridgeUniversity Press, 3-63.
Buchbinder, David (2013), Studying masculinities, Routhledge, London-New York, 202 p.
Kopytoff, Y. (1996), The cultural biography of things: commoditization as a process, The Social Life of things. Commodities in Cultural Perspective, CambridgeUniversity Press, 66-67.
Gronov, J. (2003), Caviar with champagne: Common luxury and the ideas of the good life in Stalin's Russia, Berg Pub. Ltd.,196 p.
Fitzpatrick, Sh. (1999), Everyday Stalinism: Ordinary Life in extraordinary times. Soviet Russia in the 1930s. Oxford University Press, New York, 288 p.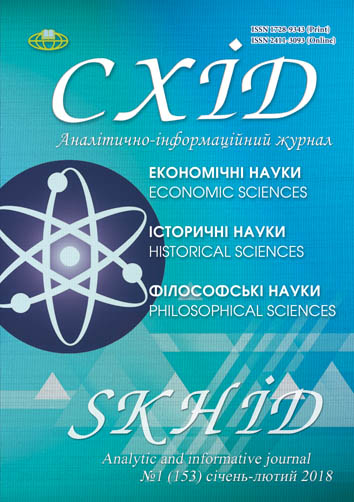 Downloads
How to Cite
Skubii, I. (2018). Male consumption demands in the urban space of Soviet Ukraine in 1920-1930s. Skhid, (1(153), 79–83. https://doi.org/10.21847/1728-9343.2018.1(153).127535
License
Copyright (c) 2018 Iryna Skubii
This work is licensed under a Creative Commons Attribution-NonCommercial-NoDerivatives 4.0 International License.
1. Authors bear responsibility for the accuracy of facts, quotations, numbers and names used.
2. Manuscripts are not sent back.
3. The publisher does not always agree with the authors' opinion.
4. The authors reserve the right to authorship of the work and pass the first publication right of this work to the journal under the terms of a Creative Commons Attribution Non-Commercial License, which allows others to freely distribute the published research with the obligatory reference to the authors of the original work and the first publication of the work in this journal.
5. The authors have the right to conclude separate supplement agreements that relate to non-exclusive work distribution in the form in which it has been published by the journal (for example, to upload the work to the online storage of the journal or publish it as part of a monograph), provided that the reference to the first publication of the work in this journal is included.