COVID-19 PANDEMIC: DIRECTED OR NATURAL FLUCTUATION THAT CHANGES THE WORLD
Keywords:
Attractor, Bifurcation, Nucleation, Covid-19 pandemic, Synergetics, Fluctuation
Abstract
The article presents a synergetic interpretation of the nature, mechanism, and role of the Covid-19 pandemic as a fluctuation that has undergone nucleation in the global system. The choice of methodological bases of our research is due to the fact that synergetics is considered today one of the new promising ways to understand the processes taking place in society, in social systems at the turning points of their development. We assume that this Covid-19 pandemic became the critical fluctuation that quickly spread throughout the world. Today, the global system is in a state of imbalance, in which old connections and structures have been destroyed or are being destroyed, and new ones have not yet been formed. As a result, it fell into the bifurcation zone, where further development becomes unpredictable. The modern world is facing another challenge of history. Therefore, today it is extremely important to determine the range of possible attractors of further evolution of the global system and, at the same time, those that are achievable and favorable to humanity. From a philosophical point of view, we can talk about being that appears before our eyes, about the birth of a new reality in which we have to live. It was found that the synergetic methodology involves the creation (consciously) of the necessary conditions for the introduction into the system of the desired fluctuation with signs of a new desired quality, and promote its nucleation. This will lead to the formation of new organizational integrity and the transition to a new evolutionary channel of development. That is why today, various conspiracy theories about the origin of the Covid-19 pandemic are actively spreading. The attitude to them is ambiguous. However, several facts force us to analyze them and draw appropriate conclusions carefully. It is noted that the lack of reliable information does not yet allow us to give an unambiguous answer about the nature of this fluctuation. However, there is no doubt that it has become a powerful factor in forming a new reality, a bifurcation transition to a new – and, so far, not clearly defined – attractor of the evolution of the global system.
References
Agamben, G. (2020, February 26). L'invenzione di un'epidemia. Quodlibet. https://www.quodlibet.it/giorgio-agamben-l-inven-zione-di-un-epidemia
Digital Health (2020, August). Tackling COVID-19 Pandemic through Integrating Digital Technology and Public Health: Linking Experiences in China to the World. The Rockefeller
Foundation and Access Health International. https://www.-rockefellerfoundation.org/wp-content/uploads/2020/09/¬v7_-RF-Final-Report_AHI_2020903_reduced.pdf
Dodonova, V. and Dodonov, R. (2020). Transformation of social values during a pandemic and problems of global solidarity. Skhid. 3(167): 21-26. https://doi.org/10.21847/1728-9343.-2020.3(167).206757
Frank, T. D. (2020). Covid-19 order parameters and order param-eter time constants of Italy and China: a modeling approach based on synergetics. Journal of Biological Systems. 28 (3): 589-608. https://doi.org/10.1142/¬S021833¬9020500163
Harari, Yu. N. (2018). 21 urok dlya XXI veka. LoveRead.ec. http://loveread.ec/read_book.php?id=80945&p=3
Wakefield, Jane (2015, March 19). TED 2015: Bill Gates warns on future disease epidemic. BBC news. https://www.bbc.com/news/technology-31956344
Kurdyumov, S. and Knyazeva, Ye. (2002). Struktury budushche-go: sinergetika kak metodologicheskaya osnova futurologii. Sinergeticheskaya paradigma. Nelineynoye myshleniye v nauke i iskusstve. Moscow: Progress-Traditsiya, pp.109-125.
Levitskiy, V. S. (2020, April 27). Filosofiya pandemii. UISGDA. https://uisgda.com/ru/filosofiya-pandemii.html
Lourdes Velázquez, G. (2020, March, 26). The role of philosophy in the pandemic era. Bioethics Update, 6 (2), July–December: 92-100. https://doi:10.1016/j.bioet.2020.08.001
Polishchuk, A. (2020, March 26). Shcho chekaye na nas pislya. Den. 56-57. https://day.kyiv.ua/uk/article/podrobyci/shcho-chekaye-na-nas-pislya
Scenarios for the Future of Technology and International Devel-opment (2010, May). The Rockefeller Foundation and Global Business Network. https://www.nommeraadio.ee/me¬edia/-pdf/RRS/Rockefeller%20Foundation.pdf
Tramp i strakh globalizatsii (2016, November, 16). Europa.com. https://euroua.com/world/usa/9058-tramp-i-strakh-globalizatsi
Harari, Yuval Noah (2020, March, 20). The world after corona-virus. Financial Times. https://amp.ft.com/content/19d90308-6858-11ea-a3c9-1fe6fedcca75#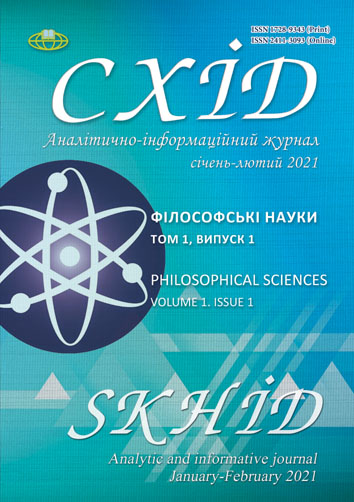 Downloads
How to Cite
Naumkina, O. (2021). COVID-19 PANDEMIC: DIRECTED OR NATURAL FLUCTUATION THAT CHANGES THE WORLD. Skhid, 1(1), 31–35. https://doi.org/10.21847/1728-9343.2021.1(1).225283
Section
Social Philosophy
License
Copyright (c) 2021 Olena Naumkina
This work is licensed under a Creative Commons Attribution-NonCommercial-NoDerivatives 4.0 International License.
1. Authors bear responsibility for the accuracy of facts, quotations, numbers and names used.
2. Manuscripts are not sent back.
3. The publisher does not always agree with the authors' opinion.
4. The authors reserve the right to authorship of the work and pass the first publication right of this work to the journal under the terms of a Creative Commons Attribution Non-Commercial License, which allows others to freely distribute the published research with the obligatory reference to the authors of the original work and the first publication of the work in this journal.
5. The authors have the right to conclude separate supplement agreements that relate to non-exclusive work distribution in the form in which it has been published by the journal (for example, to upload the work to the online storage of the journal or publish it as part of a monograph), provided that the reference to the first publication of the work in this journal is included.